Bindings—A Ski for all Reasons
How do you pick the right pair of bindings for your skis? There are so many variations of bindings available that it's difficult to find the right pair just for you. You can listen to vendors describe the intricate details of why their bindings are better than their competitors, but it all boils down to one simple concept –— bindings are used to attach your skis to your boots. With this in mind, there are three categories of ski bindings: alpine, alpine touring, and telemark bindings. With these bindings, it is important to know what type of ski boot you are using, because there is no ski boot that fits all three.
The first step to choosing a new pair of bindings is determining what type of skier you are. If you prefer to ski exclusively in resorts and on groomed trails, then alpine bindings are the right choice for you. These bindings are designed for skiers who are learning how to get down the mountain to Olympic skiers who race down mountains at freeway speeds. These bindings have a release setting based on your skill level and weight. This setting is known as the DIN of your bindings. Generally, the higher the DIN setting, the better or heavier a skier you are.
If you are a more experienced skier who is looking to transition from waiting in long lift lines to making the first tracks down the mountain after a recent storm, then alpine touring (AT) bindings will fit your needs. These bindings are designed to release from the heel and pivot to about the toe to mimic the motion of cross country skis. Alpine touring bindings are used for scaling mountain sides with the ability to transform back into a downhill ski. There are two main types of alpine touring bindings: frame AT and tech AT bindings. Frame AT bindings will work with your normal alpine boots, whereas tech AT bindings need special boots that only work with tech bindings. The main difference between these two types of bindings are the weight savings, tech bindings being much lighter than frame ones. If you are a veteran backcountry skier, the tech boots and bindings are the best way to go. If you are just getting into backcountry skiing and are looking to save a penny or two (or a couple hundred dollars), then frame AT bindings are the best option. Both types of bindings will get you to some of the best, untouched powder available.
If you are the type of person who's looking for a challenge and wants to look good while doing it, then telemark bindings are the best choice. These bindings allow for a novel type of skiing that mixes downhill and cross country skiing. The toe is connected to the ski, but the heel is free the whole time. This is unlike AT bindings, where the heel is free for the ascent, but then clips in for the descent. You have to change your style of skiing because you are essentially making a lunge motion down the mountain. While elegant to watch, just know that telemark skiers love to work their legs to exhaustion in an already tiring sport. Only telemark boots will work with telemark bindings. The range of motion allowed by the combination of the boot and the binding allows you to make these dynamic maneuvers.
In summary, think about what type of skier you want to be this season before purchasing a new pair of bindings. Look at your boot inventory and decide which bindings will be compatible with them. Once you have made all of these decisions, mount your bindings to your skis. Have a professional set your DIN release setting, then get on the mountain and ski.
Leave a Comment
About the Contributor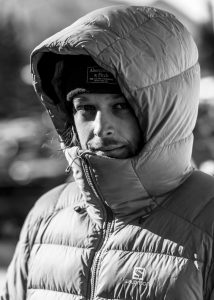 Peter Creveling, Photographer
Peter Creveling is currently a Ph.D. student at the U studying mechanical engineering and has been on the Wasatch team since 2015. His favorite outdoor activities include skiing and rock climbing, and he can be commonly spotted on the slopes of Big and Little Cottonwood Canyon year round