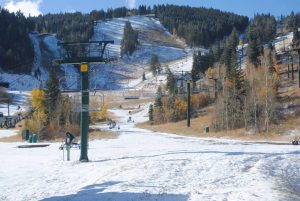 "There was a time when meadow, grove, and stream/The earth, and every common sight/To me did seem/Appareled in celestial light/The glory and the freshness of a dream."
These words by William Wordsworth describe the moments I look forward to. Moments when the pull of snow on the mountain tempts me into skiing down runs filled with fresh powder, or moments when I survey the world from the top of a red, rocky cliff I traversed by digging my hands into its cracks and crevices. These moments in nature capture what it truly means to be present, alive, and at the same time, these moments continually force me to fight against the concept of time or obligations like school or work. The need to feel free and to experience living on my own is why I chose to forgo college for the spring semester at the University of Utah and decided to live and work the winter at Alta's Rustler Lodge in Little Cottonwood Canyon.
Ski communities harbor the nomadic people of our world — the ones who have not paved a steady path for themselves, choosing to live out of cars or tents, working odd jobs in different states in order to embrace nature through skiing or rock climbing. It's hard not to pass judgment when the entirety of your life can be packed into a beat-up Toyota, but this was the norm for the employees at Rustler Lodge. While some in society might see these people as vagrants, it was difficult for me not to be enamored by their carefree lifestyle and the exciting stories they told in the evenings in the employee dining room. These were the people I would spend every skiing and working moment with for an entire season.
I loved the feeling of my beacon pressed against my side, cheeks rosy from the cold, nose numb. Each trip like a mini expedition filled with risks and careful decisions; a dumb choice could trigger an avalanche, thus ending a person's life. But working at Rustler Lodge provided more than endless skiing. I got my first steady paycheck and mastered working in the kitchen of a busy resort restaurant. I learned how to live on my own and negotiate the drama created by tight quarters. When the snow melted, signaling the end of the season and work at Alta, everyone began to pack for their next adventure. Some wanted me to come with them. "School isn't the only way to get an education," I recall one guy saying who is currently hiking the Pacific Crest Trail.
"The woods are lovely, dark, and deep, / But I have promises to keep/ And miles to go before I sleep,/And miles to go before I sleep," words from Robert Frost. I loved my winter in the mountains, and as I sit at my computer typing an article for Wasatch Magazine, it is obvious that I chose to return to the apparent normalcy of schedules and deadlines rather than live a carefree lifestyle in nature. I want to be a journalist, which means I will have a goal that requires me to go to school and master certain skills that will enable me to be a successful reporter. In the future, I know I will experience the world by taking the path less traveled, but this doesn't mean we can't have a semester off. Or if you're scared you might get behind in school, you can always take spring off and go back for the summer semester. We live in a state where we have easy access to world class ski areas that offer live-in positions like Rustler Lodge.
Rustler Lodge, Alta Peruvian, Alta's Goldminer's Daughter, Snowbird, Solitude, and Deer Valley is a short list of resorts, which offer a range of jobs from working as ski instructors to cooking in busy restaurants. Take advantage of the fact that we have access to these canyons and make the most of it. November is when you should start applying for these jobs, and the fall colors of Little Cottonwood Canyon make the drive to apply.
SaveSave