Snowshoeing Guardsman Pass
When snow hits the ground, temperatures drop, and days become shorter, it can be a struggle to find motivation to do anything outside. Utah's most popular snow attractions are skiing and snowboarding, but what is there to do besides this?
I'll tell you: snowshoeing up Guardsman Pass in Big Cottonwood Canyon. This scenic byway connects Brighton to Park City. While the main road is actually closed during the winter, it is still an option to drive up, park at the road, and take off on the snow.
First things first, you have to find the best snowshoe rental. Our own Outdoor Adventures department at the University of Utah rents snowshoes for $10 a day, or $15 for the weekend. The rental also includes a set of poles if interested. It is suggested to make rental reservations in advance. You can make them by calling (801) 581-8516.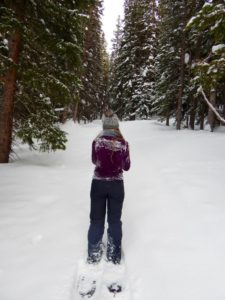 If there are no open rentals at OA or if you can't make it up to campus to grab a pair, you can also rent a pair of snowshoes at the REI Sandy or Salt Lake City locations. Members can get a pair for $12 the first day, and non members can get a one day rental for $15, and $10 for every additional day with a deposit of $100.
After you've got your snowshoes, you'll need some other equipment. A water resistant pair of snow boots and snow pants, a warm coat, a pair of gloves, and a beanie to keep yourself comfortable in the cold canyon temperatures are highly suggested. Another thing you should make sure to bring is a camera, because you won't regret capturing the beautiful winter snow around all the forest trees, trust me.
Guardsman Pass is a great place to go snowshoeing because it is just far enough that you can get away from any city life, but only about a 40 minute drive from campus. The trails aren't very steep, the snow is always great, and the landscape is beautiful. Getting there is typically easy also, because Big Cottonwood Canyon is maintained all winter long. The best time to go snowshoeing in Guardsman is definitely around 3 or 4 p.m. when the sun is barely starting to go down, but there is still enough light and the temperature is still bearable. At this time, the sun will be hitting the snow and the trees just right, making for some fantastic pictures.
Snowshoeing is a great winter outdoor activity and it is something for all ages and experience levels. The best part is that it keeps you completely dry and warm  as long as you put your snowshoes on the right way. Winter snow can last up to February or March in Utah, making it a perfect activity anytime during the winter and even early spring. Before the snow melts, whether it's at Guardsman Pass or anywhere else in the Wasatch, I highly suggest going out to explore the greatest snow on Earth on foot.
Leave a Comment
About the Contributor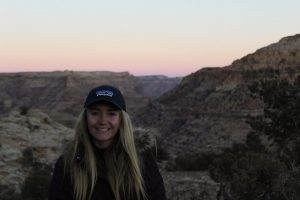 Sierra Marty, Writer
Sierra Marty is in her fourth year at Wasatch Mag. She is pursuing degrees in political science, criminology and social work. Being outside for her is an escape from a busy schedule. She is passionate about environmental advocacy and justice and has enjoyed learning more about these issues through her involvement on the magazine. Her favorite outdoor sports include trail running, peak bagging, fishing and backpacking. Her favorite thing about being apart of Wasatch is watching her coworkers have the opportunity to showcase the outdoors and encourage other students on the University of Utah campus to get outside. During quarantine, she has been spending copious amounts of time listening to serial killer podcasts and binge-watching criminal minds; but also doing a little bit of hiking.