Veiled in obscurity and far off the beaten path, the City of Rocks National Reserve — named by emigrants of centuries past "the Silent City" — is a peerless backcountry landscape of towering granite spires, alien geological forms, and burgeoning plant and animal life. This anomalous location encompasses an isolated stretch of protected southern Idaho desert, and at a mere three-hour drive from Salt Lake City, is a sublime place of solitude for your Fall Break escape.
The reserve's ubiquitous granite monoliths have amassed considerable recognition within the climbing community, and for good reason. This relatively compact expanse contains over 600 established routes, varying dramatically in height and technicality with routes ranging from 30 to 600 ft., the City of Rocks accommodates any level of climbing experience, offering climbs rated at a casual 5.6 to extreme 5.14s for the intrepid madman. A few of the most popular routes are the Theater of Shadows on Steinfell's Dome, Columbian Crack on Elephant Rock, and Bloody Fingers on Breadloaves. For curious adventurers seeking to engage in the sport for the first time, the reserve's visitor center offers introductory climbing lessons, equipment included.
Nearly 22 miles of winding hiking trails traverse this otherworldly expanse, enabling access to omniscient overlooks, geological anomalies, and secluded backcountry. Trails vary from the brief and casual Window Arch Trail, Bath Rock Trail, and Creekside Towers Trail, to the longer, strenuous Geological Interpretive Trail, Flaming Rock Trail, and North Fork Circle Creek for more challenging excursions. You may even wander off the beaten path to parts unknown, though ensure that you're conscious and considerate of your surroundings and the delicate ecosystem in your exploration.
The City of Rocks, as well as the neighboring Castle Rocks State Park, has designated multiple encompassing paths exclusively for mountain biking, including the road from Circle Creek Overlook to the base of the monumental Stripe Rock, and many other landmark access routes that are restricted to motorized vehicles. Rangers at the adjacent state park urge cyclists to explore the five-mile Castle Rocks Trail, which encircles the entire area, providing unmitigated access to many beautiful and abstract forms.
The City of Rocks cannot be fully experienced in a single day — camping is a must. Fortunately for penury-stricken college students, transient residence under the juniper trees, granite spires, and starlit sky can be obtained cheaply. For designated camping plots, which in many areas are nestled among overarching boulders and flourishing arboreal growths, the nightly fee is $12.72. A free, designated backcountry camping area is located within Indian Grove. A signed permit is required and can be obtained at the ranger station or online. Camping at the neighboring Castle Rocks State Park is priced at $23.32 per night but includes additional accomodations like fresh water pumps, 30-amp electrical hook-ups, and paved parking spots.
For a spell of momentary respite in seclusion and access to world-class scrambles along ancient granite monoliths, consider an excursion to the City of Rocks for your Fall Break meditation.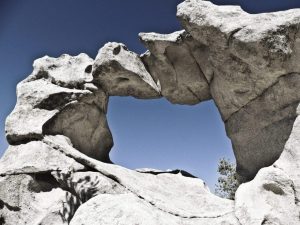 DIY TRIP:
DAY 1: Leave early to catch a camping spot and stop by the visitor center to pick up a trail guide. Familiarize yourself with the Silent City, stopping by the remarkable Window Arch, Bath Rock, and Creekside Towers. Bring your camera, this photogenic oddity demands it.
DAY 2: Take on the Geological Interpretive Trail or the 6.3 mile North Fork Circle Creek Trail. Neighboring Castle Rocks State Park yields access to sublime natural features along the Backyard Boulders Trail and Castle Rocks Trail. If you've developed an incurable itch for technical climbing, take on some of the classic trad routes.
DAY 3:  Grab a mountain bike and explore some of the encompassing sightseeing routes like Elephant Rock to the Nematode, and beyond to the Bread Loaves along the Tea Kettle Trail. Otherwise, finish your day on a climb or a hike and return home.