Sun Tunnels and Spiral Jetty Provide Change of Scenery
For those who enjoy the outdoors and art, Nancy Holt's Sun Tunnels and Robert Smithson's Spiral Jetty can be a nice change of scenery compared to your usual mountain adventures. Located on the Utah/Nevada border, the Sun Tunnels are roughly three and a half hours away. If you're looking for something a little closer to our beloved city, the Spiral Jetty can be reached in under two hours as it sits on the northeastern part of the Great Salt Lake.
Holt's four 18 foot long tunnels were installed in 1976 when she purchased a total of 40 acres for her contribution to the Land Art Movement of the 1960s and '70s. It is as simple as typing in "Sun Tunnels" on Google Maps to find precise directions to getting there. It's wise to download and/or print out your planned route just to be on the safe side, as well as to bring a GPS.
With two routes to choose from — one being only 10 minutes faster than the other — I chose to head west on I-80. This will take you past the Bonneville Salt Flats.
Keep in mind that you must leave no later than 5 p.m. to make it to the tunnels before sunset, and you must leave earlier if you need time to make any pit stops. As you pass through Wendover and take Exit 378 towards Oasis Montello, it'll probably feel like you've been driving for an eternity.
Don't worry, you'll take that right turn after the exit, and after about 20 miles, you'll enter this tiny little town called Montello. I highly suggest you top off your tank here, as gas can be a little pricey since it's the middle of nowhere, and use the restroom. From there, you'll notice several "road closed" signs, but don't worry, you can go around those. After turning off the main paved road, you're about 25 minutes out from the tunnels. The use of a GPS and downloaded trip plan is very helpful for the last stretch of dirt roads leading up to the tunnels. You'll need it to find your way back to the main road after your experience with this famous piece of art.
The Spiral Jetty is a good option if you don't have the time to trek the 100+ miles to the Sun Tunnels, but still want to enjoy some Utah land art. Smithson created this massive walkway in 1970, also as a part the Land Art movement.
Heading north on I-15, you'll take Exit 365 towards Corrine. Take the opportunity to fill up there as there are no other gas stations for miles. After following the signs to the Golden Spike National Historic Site, turn left onto Golden Spike Road to the visitor center. Had too many snacks and drinks on the way? The GSNHS Visitor Center is your last hope, and it's only open from 9 a.m. to 5 p.m. Plan accordingly.
This is where cell phone reception goes out, too, which is why it's wise to download and/or print out your planned route ahead of time, as well as bring a GPS along for added security. At this point, you'll never appreciate road signs and paved roads more. After the visitors' center, the main gravel road will take you west towards the middle of nowhere. Keep following this road for 5.5 miles, then take a right. Keep your eyes peeled for Spiral Jetty signs. They're sparse, but they do exist. At this point, it probably feels like you're lost, but there will be a T-junction, and you'll take a right turn. The road will curve around Rozel Point for what seems like an eternity — 9 full miles — and will finally come to the end at a cul-de-sac where you can park.
View Comments (1)
About the Contributor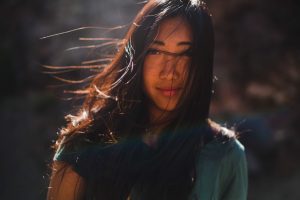 Annie Duong, Writer
Just a girl willing to try new things in hopes of telling the crazy story of it the next day.
Annie
is a major science geek with a love for the outdoors. Majoring in math, the freedom of the outdoors is the only way to escape her studious(?) life.