Guide to Salt Lake Paddleboarding
When most people hear the term "outdoor water recreation," they automatically picture intense white water rafting or some other adrenaline pumping form of water sport. That's only a portion of what the phrase entails.
If you're looking for a casual, relaxing day at the lake, for example, you can find it through paddleboarding. Paddleboards are a great way to enjoy Utah's beautiful lakes and reservoirs, and also allow you to incorporate other sports and hobbies. They work for rough water, too. There are two types of paddleboards: the SUP — or stand up paddleboard — and the traditional "prone," or kneeling board.
While the prone paddleboards are mainly used for choppy, rough water, they are also perfect for the rapids of Utah's rivers. Note: for first timers, I highly suggest signing up with a river guide before embarking on such a journey.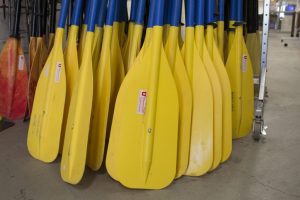 For those (like me) who just want to enjoy a day on the lake, a standard SUP is perfect. You can find plenty of rental shops that allow you to rent paddleboards, though it may cost you a little more than a college student can afford. This is where Outdoor Adventures, located at the University of Utah's Student Life Center, can come in handy. Don't forget your UCard for that student discount — with it, a SUP is only $25 a day. Since most rental shops charge $15-20 an hour by comparison, this is a significant money saver. Take advantage of what your tuition pays for.
When it comes to the actual process of renting from OA, it's as easy as walking in and asking to rent anything they have to offer. Be aware though, SUPs are one of their most popular items, meaning that you should call ahead to reserve your board as early as 1-2 weeks before you want to use them.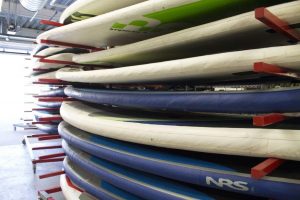 OA carries two different SUPs: rigid and inflatable. I recommend the inflatable ones are because they come all nicely rolled up in a backpack that is fully equipped with an oar and pump for easy transportation. The rigid SUPs are 12-14 feet long, and they can be a little tricky to transport. The benefit to the rigid boards is that you don't need to make reservations for them, and the OA staff are more than willing to help figure out a safe and easy way to tie it to your car.
Want to paddleboard but don't know where to go? Utah has plenty of places to paddle around without a care in the world. While most lakes allow boats (and are designated motorized), there are some places that are specifically restricted for non-motorized water recreation. Below is a list of lakes and reservoirs that are easily accessible from Salt Lake County:
Causey Reservoir (Non-motorized)
Deer Creek (Motorized)
East Canyon (Motorized)
Pineview Reservoir (Motorized)
Jordanelle Reservoir (Motorized)
Willard Bay (Motorized)
SaveSave
Leave a Comment
About the Contributor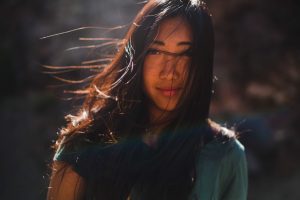 Annie Duong, Writer
Just a girl willing to try new things in hopes of telling the crazy story of it the next day.
Annie
is a major science geek with a love for the outdoors. Majoring in math, the freedom of the outdoors is the only way to escape her studious(?) life.