Technical Slot Canyons for the Beginning Canyoneer
Just like with most adventure sports, canyoneering only gets better the more difficult it is to get through the canyon. While hikes through slot canyons are beautiful, they can't compare to rappelling down one or having your partner help you climb over a stuck rock. A technical canyon is the best version of an adult obstacle course nature has to offer us, and one of the most adventures fun found anywhere. For those just getting started, however, it can be intimidating or even dangerous to drop down a canyon far above your skill level. Here are five canyons that are perfect for an amateur's first few descents.
Blarney Canyon
This is a two for one canyon; there's an East and West Blarney Canyon and both are great for those wanting to practice their natural anchor building skills. There are no bolts, but the canyon is well trafficked and natural anchors are bomber and easy to find. Both have medium sized rappels and moderate down climbs. Using a hip belay allows for less skilled down climbers to get some good practice safely. The canyons are located near Hanksville and are not difficult to find. Route finding is similarly easy, but it is exposed and, like all of Southern Utah, can be brutally hot in the summer. Either hike in early in the morning while it's still cool or do the canyon at night (Note: not recommended if it's your first time descending it). Either branch of the Blarney offers all the fun of a big, fully technical canyon without throwing anything too difficult in your face. No permits required.
Diana's Throne
THE canyon for first timers. Located just outside Zion, this route is short, sweet, and extremely beginner friendly. The technical section only lasts a short while but offers a sampling of common canyon obstacles. Everything is bolted, making it very easy to safely maneuver every downclimb and rappel. Three big rappels mark the start of the slotty section, but a more vertical descent hides a bit farther down the canyon. The approach and exit are fairly well marked out and the canyon is not terribly hard to find. Footprints paint the way there. Around the exit to the canyon are a few, bigger offshoots that can hold fun rappels themselves if proper anchor building tactics are employed. No permits are necessary as the land is all BLM.
Yankee Doodle Hollow
Intimidating, then simple and sweet. Yankee Doodle starts with a big 130-foot rappel off the side of the canyon to the floor. It is partially overhanging, meaning you'll be free floating at least part of the way down, but it's anchored with bolts so there's little chance of your anchor not holding up. After that initial rappel, some down climbs and slotty section will follow, but you won't be rappelling again. It's a one and done deal, making it great for those who want to try out a bigger descent. The canyon is located off the Leeds Exit (22) of I-15. There are no permits needed.
Keyhole
Perhaps the most heavily trafficked, and most common beginner canyon Zion has to offer. The canyon has just one, small rappel (30 feet), but offers multiple sections of good downclimbing and a classic cold water Zion swim. Break out the wetsuits for this canyon even if you're doing it in July; water down in the depths rarely sees the sun and seldom heats up. Like others on this list, the canyon is short and should only take a few hours to get through. This canyon is so iconic of good Zion canyoneering that it has its picture hanging behind the permit station in the Visitor's Center, which you'll be able to admire while picking up your mandatory permit.
Leave a Comment
About the Contributor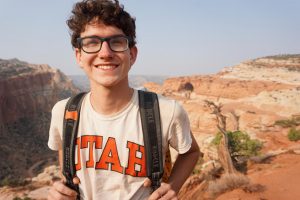 Nick Halberg, Editor
Nick is a senior studying philosophy and economics. He started with Wasatch Mag three years ago, and now is happy to be co-leading the publication as the Print Editor. He is passionate about environmental issues, especially ones regarding resource use. On weekends, he likes to explore new places in the desert.