The Adventuresome Mother
Life is inherently risky, from rolling out of bed in the morning, to dawning shoes and a shirt, we cycle through (unlikely), but possible risks in our everyday existence. Death is a possibility that we face each time we sit in our cars and drive through bustling roadways and traffic. It is a guaranteed fact of life, and while this thought might be morbid or scary, it is the exact thing that pushes us to achieve, climb, run, challenge and enjoy. In the outdoor industry living as if you could die is part of the job description. Preforming at any level in the backcountry presents risk to, not only ourselves, but also those that we love. For athletes who are also parents perusing careers in the outdoors, the risk of death is haunting. However, female climbers and alpinists, who are also mothers, face an additional level of scorn when chasing their dangerous passions. Mothers are held at a different standard than their father counterparts perusing the same extreme adrenaline-fueled lifestyle.
In the wake of top skier, mountaineer, Hilaree Nelson's death, this idea feels more poignant than ever. Nelson was killed by an avalanche September 26, 2022 in Manaslu, Samagaun, Nepal, atop the worlds eight highest mountain.  Her death struck the outdoor community with sorrow and grief for the loss of such an inspiring icon. She was the first female captain of The North Face Athlete team, and deemed "adventurer of the year" by National Geographic in 2018. She was known for her tact and wistful patience as a mountaineer, her success was integral to her ability to execute projects with intention and strength. In her obituary in the New York Times, journalist John Branch explains how some summit goals she waited on for years until the time was right. Hilaree wasn't pushing just to push it, her friend and fellow mountaineer Cody Townsend remarked, "She had a 20-year track record of accomplishments because of that."
Nelson lived a life teeming with risk, but this was precisely what made her so incredible. At the age of 49, Nelson was testing the boundaries of her body, consistently achieving summit after summit with grace and success. As a mother of two sons, Nelson converged motherhood and world-class adventuring, a challenging dichotomy. Her children and life partner, Jim Morrison, now grieve the loss of their beloved Hilaree. However, in this grief, there is pride in Nelson's accomplishments and the legacy she left for all female mountaineers or perspectives alike.
Although most media has responded to Nelson's death with love and celebration of her life, there are criticisms of Nelson, and the risks that she took given that she had children. Allison Osius, a journalist for Outdoor Magazine touches on the double standard for father outdoor athletes versus mother outdoor athletes. She tells the story of Alison Hargreaves, a female alpinist that died on a descent of K2. She had two young children. Hargreaves death in 1995 received judgmental backlash. Journal columnists for the Times of London criticized her, alluding to her selfishness, commenting that she was careless and should have prioritized her children, now they were motherless.
Not surprisingly, this same shame and disrespect does not follow male alpinists and climbers who have children. The female alpinists are taking the same risks and perusing the same adventure driven lifestyles. And while, deaths of parental figures are devastating, mothers are held at an additional level of responsibility. There are a multitude of reasons for this, but most prominent, is the way that we view our mothers in this society. They are expected to be doting, selfless, forces in their children's lives, constantly prioritizing motherhood above personal passion.
Mothers like Hilaree Nelson and Alison Hargreaves exemplify the feat of perusing passion and motherhood within one. Sacrificing the ability to seek gratifying risk due to motherhood, while fathers subject themselves to the same, free of criticism, is aggravating. Adventuresome mothers deserve the same respect and honor when their pursuits end in tragedy. They too were chasing a love, a passion.
As a woman in pursuit of an outdoor filled lifestyle, I scorn this double standard. For young woman, characters like Hilaree Nelson epitomize the duality of passion and motherhood. Her death could have come at any point, it just so happened to occur while she was knee deep in powder on the eighth highest peak in the world, truly living. For mothers alike, this example is inspiring and activates the fervor with which we should all chase the things that make us feel alive.
Of course, safety is important, and of course, death is tragic, but it cannot prevent mothers, women, and people alike from chasing outdoor ambition. This exact sentiment is what maximizes the strength with which you push up the rocky crevasse while tense muscles beg for a break. It is the sentiment that maximizes the vigor in which we crawl out of ice caked tents on early mornings. Ambition is the force that propels our bodies to push what we think weren't capable of.  The risk amplifies our sense of achievement when we reach that goal. The outdoors are humbling and gratifying, it's what pulls us addicts back into the rock, water, dirt and snow. Caroline George, an alpinist and friend of Nelson's, wrote a sentiment that Nelson told George regarding risk in motherhood. Nelson said, "As for not seeing your little girl grow up—it won't be because of what you do or don't do in the mountains. It would only be because death is part of life.'"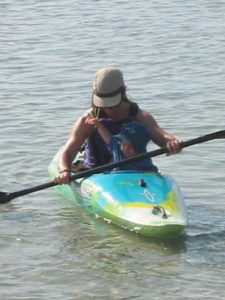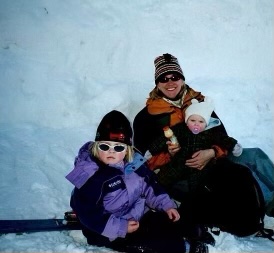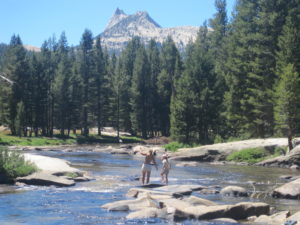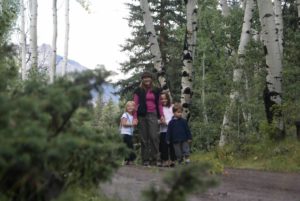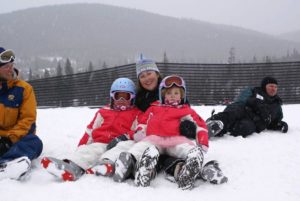 Leave a Comment
About the Contributor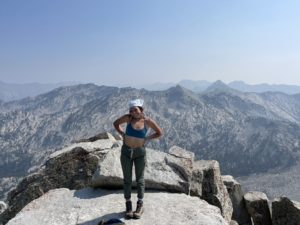 Lauren Shields, Writer
Ren is a senior at the University of Utah, studying child psychology and environmental science. She dedicates most of her time to school and the U's female/non-binary outdoors club, Backcountry Squatters. Ren is an outdoor enthusiast and, per the description, loves boating, skiing, climbing, backpacking or anything else outside. Additionally, she loves to write creatively through poems, short stories and journalism via The Wasatch mag. Ren is preparing to graduate next spring and getting excited about the future ahead and assessing how to bring her hobbies into her life and career.