The Art of Hanging Out
Few things convey the message of "I'm outdoorsy, yet I like to relax" better than an artsy pic of yourself hammocking on Instagram. The trend is infectious, spreading through college campuses across the nation faster than student loan anxieties. But what exactly is the appeal? The short answer is the three C's: comfort, cost, and carry-ability.
Anyone who has spent a sleepless night struggling against the incline of a hill or an unfortunately placed rock can appreciate the beauty of simply not being on the ground. A hammock allows this liberation, freeing your aching back from all the lumps and bumps of a lesser used campsite, while at the same time keeping you relatively level on even the steepest of slopes. With comfort being their greatest appeal, hammocks have been convoluted into all kinds of odd contraptions in order to squeeze out every last drop of coziness.
For example, inventions such as the Hammocraft, a bizarre mash-up of poles, straps, and hammocks, allow for five people to sway in their sacs on the water atop two paddle boards. Or, better yet, the HydroHammock, a hot tub/hammock combination, allows for all the comfort of a 50 gallon portable hot tub in a tree. However, these Frankensteins of the hammock world have tipped the scales too far in terms of comfort, sacrificing the two other critical components to the appeal of hammocking.
In order for a hammock to be effective, it must also hit the criteria of cost and carry-ability. A decent hammock will run you anywhere from $35 to $100 and will be able to pack up into a sack slightly larger than a softball. By comparison, a good backpacking tent could easily run double or triple the price and quadruple the weight. A failure in these last two categories clearly rule out both the Hammocraft and HydroHammock as viable contenders to make a pack list. There are versions out there that hit all three criteria, however, and do it well.
We at Wasatch Magazine have taken the terribly arduous task of spending hours upon hours researching, firsthand, the ups and downs of different brands and styles of hammocks. Below is our compiled list of those and the perks, or downfalls, of each type:
Serac Classic
This is likely the most accessible of the hammocks on the list at just $38, straps included, and is the only style available for rent at Outdoor Adventures. Weighing 16 ounces, it's perfectly suited to throw in a day bag or even overnight pack, and is almost as comfortable as any of the competing brands. However, the six-foot straps are seriously limiting. Finding two trees of suitable diameter and spacing is a quest itself worthy of a Tolkien novel. The parachute nylon material, standard among most hammocks, seems to be of a lower quality and is not as dynamic as more expensive models. Although, since it only costs about the same as a serious three person Chipotle run, the Serac Classic stacks up to be the perfect model for the casual hammocker.
Thermarest Slacker Double
The only double hammock on the list, the Thermarest Slacker Double provides a reasonable option for getting closer to that special someone. Unlike most hammocks, Thermarest utilizes a ripstop polyester designed to, they claim, offer a better next-to-skin experience. The validity of that assertion is hearsay, but the material does make the hammock slightly less breathable than its parachute nylon counterparts. As far as doubles go, the Slacker runs a little on the heavy side at 1lb 7oz and doesn't pack down that small, only managing a relatively big 9×12 inches. Although, the $80 price point, not including straps, is reasonable for this style. Not necessarily a spectacular hammock, the Slacker Double mainly serves as a sufficient alternative for those looking to move away from nylon.
Tribe Provisions Adventure Hammock
What Great Value is to food, Tribe Provisions is to hammocks: not as flashy, but usually almost as good. For $40 you get a ripstop nylon hammock and heavy duty cordage that acts as straps. No instructions are provided on how to hang the hammock with the cordage, so some basic knot skills, or some good YouTube videos, are needed. Prolonged hanging without proper straps will also result in tree damage so some kind of tree protection is needed (this can be as simple as a piece of cardboard between the rope and tree). Weighing in at 1lb 2oz without the cordage, the adventure hammock isn't the lightest option on the market, but isn't too heavy either. If your goal is lightweight backpacking on a budget, this would be a good choice.
ENO Singlenest
Essentially The North Face of hammocks, Eagles Nest Outfitters have set the standard for the ideal nap facilitator. Weighing just 16 ounces and packing down to 4×5 inches, without straps, the Singlenest is the prime lightweight alternative to a backpacking tent. The hefty $60 price reflects this. However, the 70D nylon taffeta, heavy duty cordage, and aluminum wiregate carabiners ensure that this investment has the durability to last you many, many trips. If you're serious about your outdoor naps or are willing to spend a little more to save some weight in your pack, this is the hammock for you!
Photo Credit: Peter Creveling

Leave a Comment
About the Contributor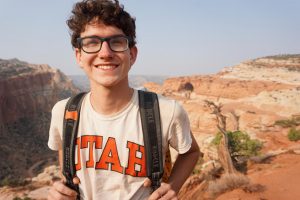 Nick Halberg, Editor
Nick is a senior studying philosophy and economics. He started with Wasatch Mag three years ago, and now is happy to be co-leading the publication as the Print Editor. He is passionate about environmental issues, especially ones regarding resource use. On weekends, he likes to explore new places in the desert.