The Best Cup of Coffee in the Backcountry
Morning means coffee, for me and for so many others. Long days, late nights, and alpine starts leave some of us slightly surly in the morning. Personally, after about 48 hours without a strong cup of coffee, I experience a debilitating headache. Not only do I need my coffee, but the rest of my group also need me to have my coffee, otherwise I'm not good company.
The psychological benefits cannot be neglected either.  On a paddling trip, we were short on food, the water level was low and dropping so we dragged the boats as much as we paddled; we were damp, sandy, and often cold. Having a warm cup of coffee in the morning was one of the few comforts we had, and for a short moment, everything was okay.
In this wonderful modern age, we have a blessing and a curse. With so many amazing ways to brew coffee (many well suited for the backcountry), how can you choose one? Allow me to present my ranked list. Weighted metrics include quality, ability to scale for a group, ease of preparation and cleanup, and amount of equipment required.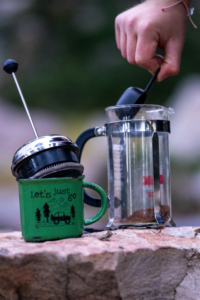 #11: No Coffee (20/50 points frontcountry, 35/65 backcountry)
Not having any coffee is dead easy to prepare, scales for any group size, and has little to no cleanup involved. There's one key problem here: no caffeine fix.
#10: Cash Register (26/50, 37/65)
Take a pinch of grounds, stick it between your lip and gum. You absorb some caffeine, but is it worth it?
#9: Percolator (33/50, 38/65)
In my opinion, Cowboy Coffee is just as good, with less equipment.
#8: Cowboy (33/50, 40/65)
Heat up a pot of water, toss in some grounds, and let it sit. Pour in a splash of cold water to settle the debris, scoop off the top, and you're set.
#7: French Press (39/50, 43/65)
A French press makes a very decent cup of coffee, and there are many lightweight options available. Because it requires specialized hardware, cleanup is messy, and it's hard to make enough for a large group. It's not the most ideal backcountry solution.
#6: Sock Coffee (40/50, 46/65)
Very similar to Cowboy Coffee, you partly fill a sock with grounds, tie it off, and pitch it in the hot water. (Note: if the water is boiling, while not ideal for coffee quality, it will sanitize an unwashed sock).
#5: Espresso (37/50, 48/65)
Similar to the French press, espresso requires its own equipment, with many compact lightweight options on the market. Cleanup is easier, quality is great, but it's hard to caffeinate a group this way.
#4: Pourover (42/50, 51/65)
Some of the best cups of coffee in my life have been pourover. The rest were Aeropress. It's easy, it's quick, and it's easier to make a lot of pourover if you have a large enough funnel. This is a pretty reasonable compromise between quality and complexity.
#3: Aeropress (41/50, 52/65)
The Aeropress is incredibly forgiving. Too much or not enough water, too hot, too cold, wrong grounds, and you'll still have a very decent cup of coffee. With quality beans weighed and freshly ground, a temperature-controlled kettle, and carefully measured water, you can make the perfect cup every time. The Aeropress is my favorite all around, at home or in the field. Unfortunately, it is a single-purpose tool, and it makes one cup at a time.
#2 Cold Brew (46/50, 52/65)
Tied with Aeropress, cold brew is dead easy to make. All you need is cold water, coffee grounds, and some way to separate the two. If you don't mind a bit of grit, let the grounds settle overnight, then pour off the top. Cold brew has a different flavor profile and tastes less acidic, so people who normally don't like coffee may enjoy it. It also can be extremely caffeinated.
#1 Instant Coffee (38/50, 56/65)
With instant coffee, the good stuff (I prefer Death Wish brand) costs, but you taste the difference. It's quick, it's easy, there's basically no cleanup, and you can make enough for everyone. This may not be the winner we were expecting, but on more and more of my trips, it's a staple.
Hopefully you learned some new methods. Try them, if you have the courage. And a final suggestion: coffee has two ingredients, water and grounds. If you use good-tasting water at the right temperature, grind your own freshly roasted beans with a ceramic burr grinder, and weigh both, you'll never look back. Or, if you don't want to hike with a grinder, maybe a cup of instant will do.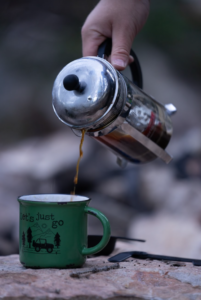 Leave a Comment
About the Contributors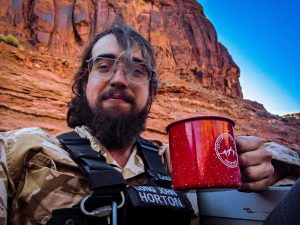 John Horton, Writer
Long John Horton, Pirate of the Colorado Plateau is from Salem, Utah, but now lives in Salt Lake City.  He is entering his fifth year as a Mechanical Engineering major with no obvious end in sight.  In the past few years, he has developed a passion, bordering on obsession, for river rafting, canyoneering, and more recently, caving.  Recently John became certified as an EMT, and volunteers on Salem EMS with his mother.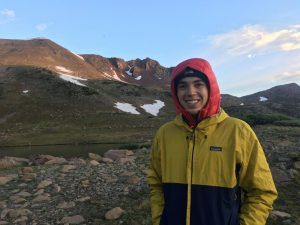 Derek Kober, Photographer
Born and raised in Los Alamos, NM, Derek is a Junior studying biology with a minor in computer science. This fall is Derek's first semester working as a photographer for Wasatch, he's stoked to be a part of the team. He loves to climb, backpack, and give his best shot at all other outdoor activities.