The Bone Zone
As fall winds to a close each year, Salt Lake City locals count down the days until resorts in Big and Little Cottonwood Canyon turn on their chairlifts and open for the season. Historically, resorts like Brighton, Solitude, Alta, and Snowbird open around Thanksgiving, depending on the amount of snowfall. However, you don't need to wait until then to get your turns in: The Bone Zone at Brighton opens as soon as the grass gets covered.
The Bone Zone is a DIY park that typically opens in early October — over a month before chairlifts begin to run. Found near the Milly chairlift by the Vehicle Shop, this homemade park creates a lot of buzz each year as no other park in the Salt Lake area is open yet. Receiving hundreds of visitors each year, the Bone Zone is an iconic part of the ski/snowboard culture at Brighton.
Part of what makes this pre-season haven so special is the community aspect. If you want to earn your turns before lifts open, you have to make sure to bring a shovel: nobody gets a free pass to the terrain offered. Brighton workers, with the "Brighton Diggers" in particular, put forth a lot of effort to make sure the Bone Zone is up and ready as the snow begins to fall. There are dozens of rails, boxes, and other unique metal features that allow mountain lovers of all skills and experience levels to enjoy: they don't just pop up out of nowhere once snow begins to fall. Hours and hours of work go into the creation of this terrain park each year, and it is an expectation that everyone helps maintain the Bone Zone to keep it up and running for the weeks leading up to Opening Weekend. When snow gets thin, don't be afraid to shovel some nearby snow into areas that need it. Always look out for spots that could use some finishing touches to not only preserve fun times, but to maintain a safe environment.
Park enthusiast and University of Utah student Luke Paster is one of many who has grown to love the Bone Zone, and knows the importance of working as a whole to make sure the park runs smoothly.
"Bring a shovel: nobody gets paid to make the Bone Zone happen. If you want to ride you got to put in the work. Every couple of hours there are 20-30 minute shovel breaks, helping reset rails and replenish areas with light snow spots. It is very important to help out," Paster said.
It's not just the skiing/boarding itself that draws so many in, however. Brighton advertises a warm and welcoming community of like-minded park rats who swarm up Big Cottonwood Canyon once the snow begins to fall.
"The snowboarding itself draws me in, but seeing friends you don't normally see throughout the rest of the year is one of my favorite parts. Everyone begins to congregate and start doing what they love again," Paster mentioned.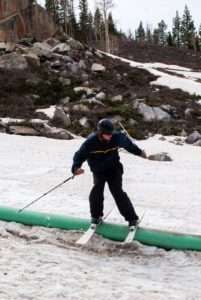 Sometimes it takes some time getting back into the groove of being on the slopes, and getting these early runs in definitely helps prepare everyone for the stoke to be had all Winter long. The Bone Zone has smaller terrain than the parks Brighton boasts throughout the main resort. These early weeks are a fantastic way to get comfortable on the snow, as well as even trying out some tricks you've been itching to complete since the end of last season. From cab 270s to back lips and nose presses, even the most advanced skiers/boarders can find new ways to challenge themselves. And, even for Bone Zone veterans and those with more advanced skills, make sure to wear a helmet. Beanies may look cool, but nothing is cooler than staying safe on the slopes.
One of the best parts of this unique Brighton accommodation is the social media buzz it creates. From Instagram reels to Snapchat videos, both flashy tricks and bumpy falls will leave you thinking, "I got to make my way to the Bone Zone!" @Bonezonebrighton on Instagram is a must follow: not just for the updates, but because the videos/collages it creates really showcase the skill of park rats all over Utah. Make sure to tune in!
Leave a Comment
About the Contributor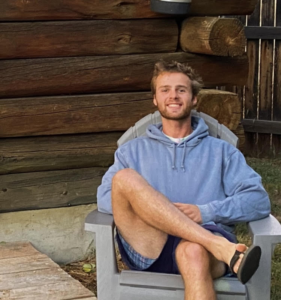 Sam McGahay, Writer
Sam, a senior (ish), grew up in the suburbs of Chicago, and is studying English with a minor in creative writing. He plans on attending law school after graduation, with a concentration in environmental law and policy. He loves spending time in the Wasatch mountains year round, and loves sharing stories about all the unique people and opportunities University of Utah has to offer!