The Coevolution of Mountain Biking and Trail Systems
In outdoor spaces, one doesn't have to look far to find mountain biking enthusiasts. The community of mountain biking encompasses countless riders, there are seemingly endless bikes equipped with varying technology and specs, and one can find races and trails all across the nation. Yet the modern sport of mountain biking came from very humble origins. 
It's generally agreed that mountain biking was born in California, where a group of buddies took their road bikes beyond the streets and began riding the dirt roads around Marin County. As with many new innovations, more people got involved in off-road cycling and began contributing their own innovations to modify bikes to be better equipped for new purposes. This led to the creation of the first downhill mountain bike race in 1976 named "Repack" because the riders had to repack their primitive coaster brakes with grease after every ride due to the heat produced in the race. 
As more people got involved in the sport, a domino effect of innovation led to the industry of mountain biking as we know it today. This growth in mountain bike production and innovation has occurred in tandem with the propagation of multi-use trail systems designed for hiking, running, and biking, as well as trails designed explicitly for mountain biking.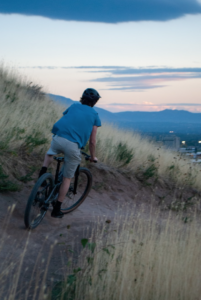 Shawn Gillis has owned a bike shop in Colorado since 1998 and has been involved in the industry for over 30 years. Over this time he has observed extreme changes in the world of biking, especially noting that "bikes are starting to be really fun." In the '80s and '90s, a person getting out on the trails had to be a real enthusiast. They had to deal with constant flat tires, poor or nonexistent shock absorption, bad gears, and bikes that didn't fit different bodies. Over the past 20 years, the technology involved in producing mountain bikes has improved exponentially. Mountain bikes can now be equipped with tubeless tires, efficient shifting, excellent shock absorption, dropper posts that allow easier downhill riding, and frames that are built and fit to riders of many sizes and shapes. 
Gillis considers this evolution of technology to be continual: "it's like guessing what your electronic devices are going to be like in three years. [Technology] is ever-changing. It's the same thing with our bikes. The skill set is constantly changing, and as the bike companies see what's going on, especially through social media," they adapt their bikes to suit these evolving riders. Thus, the industry constantly adapts as bikes grow to fit more riders who continue to develop skill sets and do more exciting things.
This evolution of mountain bike technology has also occurred in tandem with the improvement and growth of trail systems across the U.S. The first mountain bikers who spent days pedaling old logging and mining roads would be shocked if they were thrown into the modern world: countless towns and cities have trail systems specifically designed for biking, with many choices for the level of difficulty, ride length, and a variety of engineered features and styles of riding. 
Shawn Gillis saw this growth first hand in Salida, Colorado, a small town that has been the home of his independently owned bike shop. In the late 1990s, there was a paved concrete path in town and a series of trails that were very technically challenging and difficult to access. Fast forward to 2021, and there are about 65 miles of built trails in the area, with many being designed for a variety of skill sets. This growth has occurred through years of work by the local volunteer-based trail building crew. According to Gillis, it took six years of planning work to collaborate with landowners and government agencies to put the first trail on the ground. From 2008 to 2012, about 1 to 4 miles of trails were built a year. Now, about 10 miles of trails are being built a year, as the amount of volunteers and the momentum for trail building has increased.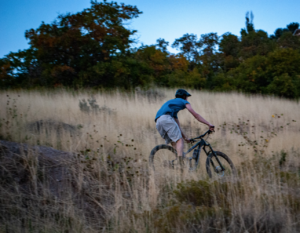 It is not simply the number or miles of trail that has grown, but the planning and design put into trails have evolved. While the first mountain bikers were skidding down old mining or logging roads and primitive hiking trails, now bikers can ride trails with purposefully engineered and integrated features such as berms, drops, tables, and rock gardens. 
To make this happen, "a trail builder has to come in with great knowledge of sustainability, features, and fun." When a trail is designed there are "countless hours of discussion" between trail builders to determine how to best design a trail to appreciate the natural landmarks, integrate interesting natural features, and ensure the longevity of the trail. The crew will analyze environmental aspects of the area to integrate them as features, such as running the trail through a rocky section to introduce a technical level or a drop. They will oftentimes build in flowy sections, tables, or other engineered aspects to allow riders to practice skills and experience the most fun version of the trail. 
Another very important aspect of the design is ensuring that trails are able to handle traffic and environmental degradation with minimal maintenance. Builders specifically design trails with bench cuts to allow drainage of water so that trails are not destroyed by rainfall. Additionally, building berms and banked turns help keep riders on the trail, reducing the impact of erosion. Gillis describes this process of trail building as very dynamic and involved, with trail builders "constantly working to morph, change, and integrate cool ideas" to design the most fun and sustainable trail possible. 
Over time, this hard work by local trail crews has led to the creation of a large trail system designed to fit a wide variety of mountain bikers. This variety, combined with the boom in popularity of the sport, has caused the number of riders that frequent the Salida Mountain Trails System to grow exponentially. According to Gillis, in the early 2000s, trail counts only found a couple of hundred people riding the trails a year. Flash forward to 2021, and trail counters are hitting 18,000 to 20,000 people a year. 
This evolution of trail systems and growth in the number of riders is in no way limited to a small town in Colorado nor to the traditional mountain bike meccas like Moab, Sedona, or British Columbia. Trail systems all across the nation have expanded as many communities are seeing the economic, community, and health benefits from investing in trails. Places without significant trail development now boast extensive trails. This is seen in Bentonville, Arkansas, where Walmart heirs invested millions of dollars into a now 160-mile trail system, with the intent of urban renewal and community economic growth. Similar trail systems are cropping up in Minnesota, Michigan, Ohio, and other states far from the early meccas of cycling and the birthplace of mountain biking. This growth in trail systems is expanding the demographics of people who are able to proudly call themselves mountain bikers to more cities and towns across the greater United States and world.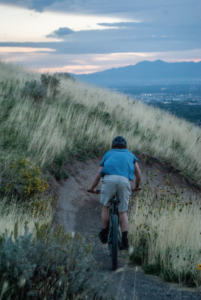 This evolution additionally goes beyond bikes and trails, impacting the riders. As trails become more inclusive towards all skill levels and bikes become more "fun," the sport can become more inclusive and reach a broader group of individuals. In the words of Gillis, if you were to "back up 20 years, the groups that were riding were very serious." Today, the demographic is broader, with people riding in both serious and social circles and "more people riding with buddies, girlfriends, boyfriends, families." Gillis has especially noticed an increase in family groups riding together since the pandemic. 
The growing development of trails has diversified bike trips as well, so "instead of just choosing from Crested Butte and Moab," riders have countless cities and towns to visit on a bike trip, and these destinations have many more styles of trails to ride. "Instead of being just the hardcore people, anybody can get talked into taking a mountain bike trip and have fun." On a bike trip in Moab 20 years ago "you had to be rough and tough, and come back bleeding" from many of the trails. Now, there are "10 more trail systems that you can take a person that is on their first time, and they can really enjoy it." This expansion of trail infrastructure allows a greater community of people to ride bikes and really enjoy their experience on the trail. This is ultimately what Gillis sees as important to the work of trail building: to build a trail system designed to fit everybody. 
As we move forward as a community engaged in mountain biking, Gillis urges riders and trail enthusiasts to be aware of their systems. "When you go out on your trails, look at how they're designed, and maintained, and look at the land, and absorb the variables, and be super appreciative. There are so many communities that are stepping up. Pay attention, absorb, learn, volunteer!"
Leave a Comment
About the Contributor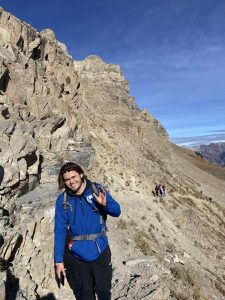 Bradley De Boer, Photographer
Bradley is an incoming sophomore from Chicago, Illinois. He is a design foundations major considering architecture and urban ecology. He loves to shoot both film and digital photos and is super stoked to be part of the magazine this year. He is an avid snowboarder and hiker. Leaving the midwest for the mountains was the best decision he ever made, and he plans to pick up a few more hobbies these next few years.