The Ease of the Two-Day Adventure
Five weeks into the semester and I already began to feel the twinge of a burnout. My reluctance to go to class grew stronger and my bedtime grew later, while my alarm's time stayed the same — growing quieter and quieter with every passing morning. The days began to turn more into races to get to a nap than they were, you know, schooldays; that's when I decided I needed a break. Nothing long, just a day or two to recharge the mind. My mind began to wander to all of the adventures summertime held for me — the endless possibilities for camping, backpacking, canyoneering, you name it. I longed for those days. 
Then I realized something: this is Utah. Utah! Why wait for the summer to go camping? Why even wait for a long weekend? When national parks and national forests and national monuments and national recreation areas and state parks and anything else are all a few hours away by car, why wait? In this remarkable state and centralized school, there's no reason to wait, so I didn't. A friend and I took a random week in September and made a plan.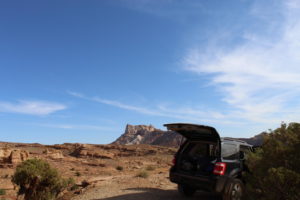 Wednesday afternoon was when we decided where we were going, a slot-canyon-y area in the southern portion of the San Rafael Swell, and a cool four-hour drive away. Thursday night I went to Win-Co and bought supplies: a few tortillas, peanut butter, trail mix, bagels, coffee. Friday morning was spent in the library, clearing my schedule for the next couple of days. By Friday afternoon we piled our gear into my SUV and hit the road, windows down and music up like a couple of travel vloggers, heading towards the desert. Friday night was spent making tacos under the stars, watching the moon rise over red rock cliffs. Saturday and Sunday were spent hiking, galivanting around the Utah desert, far removed from canvas notifications and blaring alarms. We were home at a responsible hour Sunday evening, with plenty of time to shower and get a good night's sleep in preparation for the week ahead, as if we had never left.
My point through this narration is that here in Salt Lake City, it is beyond easy to get away for a weekend and give your mental state a chance to catch up. And that goes for everyone: every student, every professor, every experience level, every size gear collection — to quote Edward Abbey, "wilderness is not a luxury but a necessity of the human spirit … as vital to our lives as water and good bread." If you've never been on a camping trip before but hear this quote and smile, let me help you plan one: 
As a university student, there is no better starting point than a quick google search for "U of U outdoor adventures." Once on the OA's website, you'll be greeted with a near overwhelming selection of resources to choose from. There's link after link to different trip-planning websites, offering countless destinations, trails, rivers, canyons — whatever you have in mind — along with how to get permits (if needed) and directions. There is something for every skill level and every desire, all within a couple of clicks of each other. Additionally, there is page after page of gear rentals, giving anyone with nearly any budget the opportunity to experience the natural world in any way they want. If a weekend trip sparks a greater passion, the OA also offers several different guided trips and clinics, to help educate students of any level in the safest and best ways to operate in the outdoors. 
Hopefully now it's apparent how easy it is to stuff gear into a car and escape the monotony of university life for a couple of days. Beyond this ease, however, I want to stress the importance of giving yourself a break every once and a while. I'm sure that I am not alone in realizing that a return to in-person classes and semi-normal social schedules has provided a surprising culture shock when compared to the past few semesters. This rapid adjustment left me feeling drained, stretched thin, and mentally exhausted. A quick car-camping trip did wonders for my mental health, more than I anticipated. So, take this as a reminder that the desert — or the mountains, or the lakes — are out there waiting, ready to help. Get in the car and go.  
Leave a Comment
About the Contributor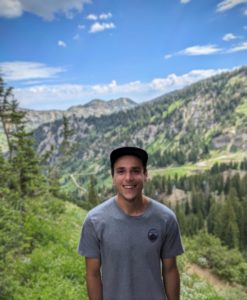 Will Ginsburg, Editor
Will Ginsburg grew up in Salt Lake City, and spent two years as a staff writer for Wasatch before becoming Editor this summer. He will be starting his fourth year at the U this fall, majoring in Writing and Rhetoric Studies. Outside of academics, he is a member of the men's Ultimate Frisbee team and a lover of the outdoors, with his main passions being snowboarding, skiing, and hiking.