The fate of Bears Ears
If you've been following the Bears Ears National Monument issue, you may have felt the rising heat over this topic. Last Thursday, the Bennion Center held a panel discussion to educate students and the public about the recent proposal to designate 1.9 million acres of land, spanning from approximately Lake Powell to Moab as the Bears Ears National Monument. What does this all mean?
Bears Ears is rich with breathtaking scenic hiking and backpacking trails, natural resources, cultural artifacts, and spiritual sites. The land is home to over 100,000 cultural and spiritual sites, making it a prime target for lootings. More than a dozen damaging cases of looting and desecration of graves were reported between May 2014 and April 2015. The Cedar Mesa and White Mesa regions in the proposed area are especially controversial, as these stretches of land contain oil and uranium. Recently, oil and gas companies have been pushing for leases allowing oil development and mining in Bears Ears. Natives believe that once disturbed, these resources and the land's cultural integrity will be lost forever.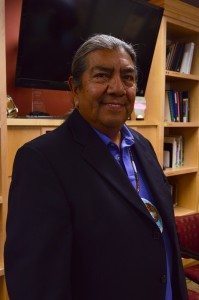 The Intertribal Coalition says a national monument designation will improve management of off-road vehicles that damage cultural sites, increase patrol to stop looting and gravesite robbing, and protect the land from contemporary threats of energy development. However, many San Juan residents are skeptical of the monument. At Thursday's panel, Devin Bayles-Hancock, a resident of San Juan County, argued against the desire to shift toward a tourism economy, saying "tourism is not the answer. It is an unsustainable source of income." The tribal coalition maintains that a national monument designation will bring more sustainable jobs with the ecotourism industry as well as opportunities to educate and inform visitors about the land and the culture surrounding San Juan County.
Forrest Kutch, member of the Ute Nation and panelist, told students and attendees, "Our time to be heard is now. Educate yourselves. Educate yourself about our state, our land, and pollution. Pollution is the name of the game, folks. We cannot afford to be silent anymore." What can we do as students? Environmental Studies major Molly Scoville, who attended the panel, says, "It's important we have open dialogue with both sides represented. We have to let go of labels in order to move forward together." Have discussions with other students about this issue, regardless of which side you fall on. Most importantly, as students and residents of Utah, let's celebrate the beauty of this remarkable place right in our backyard. If you want to check out the area for yourself, try planning your next climbing trip at Indian Creek, floating the San Juan River, or backpacking through the stunning Valley of the Gods or the Grand Gulch. You won't regret it.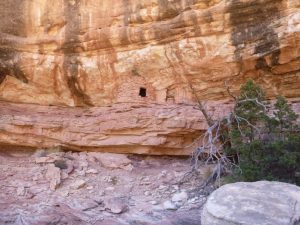 Feature photo by Alaynia Winter
Leave a Comment