The Greatest Ice on Earth: Speed Skating for Dummies
Though everyone's go-to winter sports in Utah are skiing and snowboarding, another great way to enjoy the cold weather is speed skating.
When trading in "the greatest snow on earth," you get "the fastest ice on earth" in return. Salt Lake County's high elevation creates a special atmosphere, and people from around the world come here to train or race at the Utah Olympic Oval, built in 2002 for the Winter Olympics. It is a state-of-the-art facility that includes one long track around the perimeter, encompassing two smaller rinks inside.
The best part of the facility is that it is open to the public. Located in Kearns, about 14 miles from Salt Lake City, you can go experience this place for yourself. It costs $8 per person for a day pass — a relatively cheap option for a great time.
If you get the chance, make sure to visit the Olympic Oval when there is a competition going on. You'll have the chance to meet racers from all over the country while they're qualifying for spots on world championship teams and in the Olympics.
There are two specific types of speed skating — long track and short track — and within each are various event distances for athletes to race. In long track, it is impressive to see how efficient participants are in each of their strides. They are able to maintain high speeds while exerting the least amount of energy possible.
Like most people, my personal favorite is watching short track. The athletes fly around the track at high speeds and extremely low angles while tightly packed. It is amazing to see how much control they have at speeds approaching 30 mph. Rounding the corners, the athletes have to put their hands out just to stay on top of their skates while their hips are less than two feet above the ground.
At a recent competition, I had the opportunity to speak with one of the athletes who received a silver medal at the 2014 Winter Olympics in Sochi. I learned that in this sport the strength of your legs is the most important part — you can easily tell a speed skater by the size of their toned thighs.
If you'd like to match this athleticism or just try some regular ice skating, there are a couple of outdoor rinks around the Salt Lake area: the Gallivan Center, located in downtown Salt Lake City, the Plaza, at the South Jordan Ice Rink, the Solitude Mountain Resort ice rink, and the Park City Mountain Resort ice rink.
Leave a Comment
About the Contributor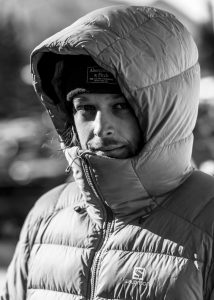 Peter Creveling, Photographer
Peter Creveling is currently a Ph.D. student at the U studying mechanical engineering and has been on the Wasatch team since 2015. His favorite outdoor activities include skiing and rock climbing, and he can be commonly spotted on the slopes of Big and Little Cottonwood Canyon year round