The Most Underrated of the 'Mighty Five'
Every summer there's the magical little period of post-school, pre-work freedom. Ideally, this is a week or longer, allowing for some kind of big, planned trip to take place. This year I had a weekend. With much whim and little planning, we stuffed the trunk and backseat of my friend's Subaru and headed off to Capitol Reef for a night. Little did I know I'd be stumbling into Utah's most underrated national park.
Our expectations were low; nobody in our group really went to Capitol Reef. I had seen stunning pictures of the park on random Instagram posts before, but I was suspicious. Plenty of places in Utah caters to what I call the "tourist adventurer." These are people who make it seem like they are incredibly remote when in reality they're standing off the side of a highway. I did not want to be swarmed by the masses as we all crammed into a little parking lot and hiked a quarter mile to some awesome geologic formation. I wanted to actually be remote.
We decided to head to the visitor center where we knew we could get a map and ask the ranger's advice on where to go. After a few PB&J's and some deliberation, our decision had been made. We packed up lunch, hit a few of the touristy day hikes, and then headed off to our real adventure.
After an hour of getting lost, two hours of high clearance, dirt road navigation and good music we reached the imposing sandstone formations known as Temple of the Sun and Temple of the Moon — aka our campsite. Soon, our tents were pitched just outside the park on BLM land, but still within view of the Temples. We enjoyed dehydrated beef stew, red beans with rice, and beef stroganoff as the last of the sun's light fell across the towers. A few more hours and their dark silhouettes provided the perfect juxtaposition to the star encumbered sky.
Our expectations were well exceeded. Capitol Reef can lead you into a trap of "tourist adventurers" if you stay on the surface. Venture deeper into the park, though, and you can visit sites like Cathedral Valley, where you'll find something far different.
In this hidden gem, we were met with total solitude and expanse, even though it was Mother's Day. The main road, which houses most of the park's visitors during their time, was relatively uncrowded. The parking lots at the hikes would fill, but barely. Just hours farther south, Zion would be entertaining bus after bus of tourists, while in Capitol Reef we saw equal views and far fewer tourists.
After just 24 hours in the park, my perception of it shifted completely. Capitol Reef holds the stigma of being unimpressive or not worth visiting, but as I found out, this is utterly untrue.
The park is nearly twice the size of Zion meaning there are far more backcountry and off-the-path places to explore. As the least visited national park in Utah, it is not hard to find a landscape totally devoid of people. Even the nearby towns are small and relatively unobtrusive. BLM land surrounds almost every border of the park, offering free camping wherever you go. Everything about this place is wild, expansive; and entirely underrated.
Leave a Comment
About the Writer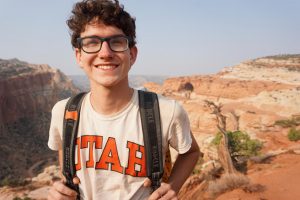 Nick Halberg, Editor
Nick is a senior studying philosophy and economics. He started with Wasatch Mag three years ago, and now is happy to be co-leading the publication as the Print Editor. He is passionate about environmental issues, especially ones regarding resource use. On weekends, he likes to explore new places in the desert.