The Mountaineering Opthamologist, Doctor Geoff Tabin
I pulled out my phone to investigate what was responsible for the buzzing in my pocket and saw a number I'd never seen before calling from Salt Lake. It was Dr. Geoffrey Tabin, returning my call for an interview. Within just a few minutes, I found myself deep into a conversation about one of my favorite climbing spots near my home in Chicago.
I could hardly believe it. Here was a man who was one of the early few to climb all seven summits (completed in June 1990), was part of the bravely harebrained group that invented bungee jumping, and has a seemingly biblical power to cure the blind — and he was talking to me about good ol' Devil's Lake in Baraboo, Wisconsin.
In an attempt to steer the conversation back on track I asked how it is that such a decorated alpinist/adventurer gets involved in cataract surgery. What followed is a conversation I am likely never to forget, one that I will do my best to immortalize here.
Tabin, known simply as Geoff in those days, graduated with an MA in Philosophy from Oxford University on a Marshall Scholarship. During his time there he took full advantage of "Indigenous trust funds," which were remnants leftover from the days when Oxford encouraged their students too go out into the world and "civilize" it. To Tabin, these were his tickets atop some of the world's most impressive mountains. Through these funds, Tabin traveled far and wide, climbing to his heart's content.
One such trip was to New Guinea, where his friend David Kirke from the Oxford Dangerous Sport Club, a group of a few dozen extreme sport athletes who pioneered the most absurd challenges imaginable, encouraged him to try the native rite of passage known as vine jumping.
Although Kirke was wrong about vine jumping starting in New Guinea, it actually began in the nearby island of Vanuatu, the club was inspired. They decided to urbanize the native challenge. Using bungees from an aircraft carrier, Tabin and colleagues sent a lucky (or perhaps foolhardy) few over the edge of the Clifton Suspension Bridge in Bristol, England.
The jump and subsequent bungee parts were a wild success, however, the heavy, slick cords made it impossible to hoist the rider back onto the bridge. There the rider dangled, long enough for a local paper to snap some pictures. Soon, stories of the absurd stunt traveled far and wide, all the way across the Atlantic to an American TV show called "That's Incredible." They requested the club come out to Colorado and recreate the stunt, but Tabin recalls his pals' resistance. "They said there was no sport in it,"  Tabin recounts with a chuckle. "They had proven it could be done so to them the sport was gone."
Regardless, the club set out to the United States and performed the first ever televised bungee jump off the Royal Gorge Bridge in Colorado. After, they packed up their bungees and headed to the Bonneville Salt Flats. If there was no sport left in bungee jumping, they decided they better do something worthwhile in America. Catapulting themselves between two cars, they managed to get a wheelchair (and rider) up to over 60 miles an hour, a new world record.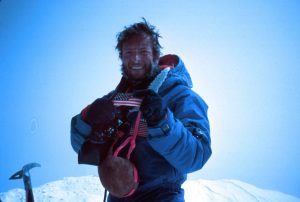 Primarily a mountaineer, most of Tabin's trips took place in the Himalayas. Perhaps his most historic trip was his ascent of the last unclimbed section of Everest, the Kangshung Face. It took three attempts before Tabin himself finally stood atop the infamous East Face in 1988. Although he wasn't the first to do so, he was on the mountain supporting the 1983 crew that managed to ascend the face for the first time. It is considered to be one of the most difficult routes up the mountain and is rarely attempted.
80s Nepal, the foremost climbing country in the Himalayas, was not much better off than most third-world countries. It was here, in the disheartening villages, that Tabin realized his passion for, "the moral, philosophical underpinnings of healthcare." He witnessed a cataract surgery on a woman during one of his Everest expeditions and was amazed at the power it had to transform her life.
Returning to the U.S. to attend medical school at Harvard University, Tabin realized he wanted to return to Nepal, only this time it wasn't to climb. It was on this return trip that he met Dr. Sanduk Ruit, a leading cataract surgeon from Nepal working on a pioneering surgery.
With Ruit's new method, surgeries became cheaper, faster, and simpler than ever. Using a small incision, Ruit was able to clean away the buildup causing the cataract and install a secondary lens to refocus the vision. Tabin was convinced this was his calling. With Ruit, Tabin started the Himalayan Cataract Project.
The project's goal was to help combat blindness in Nepal alone — a goal soon surpassed. Under the two men's guidance, a multitude of different training programs for adults or youth were implemented in Nepal. Within a few years the Project had treated  nearly 300,000 people in Nepal. Looking back, Tabin realized that naming his organization the Himalayan Cataract Project was a mistake.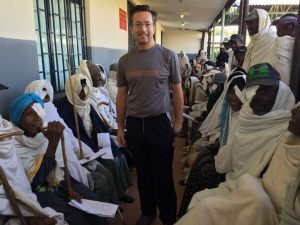 "At the time, the need in Nepal was so great, some 255,000 people were backlogged for these surgeries. We saw this as a life endeavor" Tabin recalls. With serious dedication and effort, however, the project has spread far across Nepalese borders. The Himalayan Cataract Project now works not just in other Himalayan countries like Tibet, but all over Asia and Sub-Saharan Africa too.
Today, Tabin's life is still packed with adventure, although of a different kind than in his college days. Instead of jumping off bridges or climbing big mountains, he is traveling a large part of the year doing the work he loves in the most disparaged countries. He doesn't have much time for big expeditions anymore which is why he loves living in Utah. "You can skin up a mountain, ski down, and still be at work by 8 a.m."
But he does manage to find a few days here and there for some larger trips. A few years ago in Africa he was able to sneak off for six days to casually climb Kilimanjaro with a paraplegic veteran, an expedition that sums up his character.
Photos courtesy of Geoffrey Tabin
Leave a Comment
About the Contributor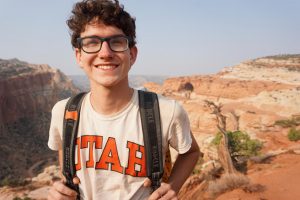 Nick Halberg, Editor
Nick is a senior studying philosophy and economics. He started with Wasatch Mag three years ago, and now is happy to be co-leading the publication as the Print Editor. He is passionate about environmental issues, especially ones regarding resource use. On weekends, he likes to explore new places in the desert.