The Perfect Playlist for All Your Summer Music Needs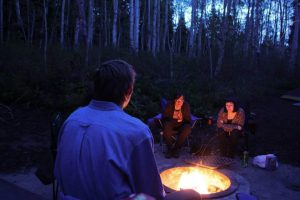 This "outdoor playlist" of sorts was inspired by summer nights (no, not the ones from "Grease"). Rather, it's the feeling of driving with your windows down through the canyons. It's sitting around a campfire. It's green trees and blue skies. Most of all, it's music you can play while enjoying the outdoors or reminiscing about your time spent there.
1. "Sloop John B" by The Beach Boys
It feels kind of like a cop-out to put The Beach Boys on a playlist about being outside, but this is the first song that came to mind when I was brainstorming ideas. "Sloop John B" makes it feel like you're right there with the narrator of the classic tune, and sometimes listening to it makes you feel like you're sailing the ocean with them — or at least the Great Salt Lake.
2. "Hey Jealousy" by Gin Blossoms
This song is forever and always my go-to for rolling the windows down and cranking the music up as loud as possible. Maybe it's the song's actual lyrics ("Tomorrow we can drive around this town"), but something about "Hey Jealousy" always makes me want to be out enjoying the night with my friends.
3. "Young Fathers" by Typhoon
Sure, the song's lyrical content is kind of a bummer (it's all about resentment over having young, incapable parents) but its booming orchestration, unique percussion, and frequent mood changes feel like an adventure.
4. "La Loose" by Waxahatchee
Waxahatchee has been one of my favorite artists for a long time. Until her most recent release, however, her music was suited mostly to sitting at home by yourself, rather than exploring the world. "Ivy Tripp," her newest album, offers music for many occasions, particularly feeling carefree and content. "La Loose" feels most like that to me, partially thanks to its upbeat drum machine, catchy bass line, and sing-along chorus — you can't do better than a good "ooh ooh."
5. "I Want You Back" by The Jackson 5
Making playlists has been a hobby of mine since early adolescence, and last summer was no exception. When I sat down to make my "songs for summer 2014" playlist, this song had been stuck in my head for weeks. What resulted was an eclectic mix of music — and by eclectic, I mean "I Want You Back" over and over again. A year later, this song still holds up, and I include it on any sort of outdoor/summer playlist. It's a good throwback song to set a positive mood. You can also play it when you've left the outdoors because sometimes you just want to go back.
6. and 7. "Hurricane Waves" and "Can't Complain" by Bomb the Music Industry!
Remember the carefree, content feeling I associated with newer Waxahatchee songs? I get a similar feeling with songs from "Vacation," a Bomb the Music Industry! album. In fact, the feeling is so similar that I couldn't even choose just one song to put on this playlist, so I'm putting two. "Hurricane Waves" is a rambunctious, heavy ode to finding happiness, and "Can't Complain" is a lighter, more relaxed song about appreciating the happy things that are already around you. They're a perfect complement to each other and to any sort of adventure you might find yourself in — whether isolated in the wilderness or just strolling down the street.
8. "Chicago" by Sufjan Stevens
This is one of Sufjan Stevens's best-known songs, but that's not why I'm including it on this playlist. The reason is that it's an absolutely perfect song for a road trip. I could drive across the entire country for weeks and weeks and only listen to this one tune. It fits the grandiose of experiencing new places and new terrain perfectly, whether that's the sprawling Rocky Mountains or the flat and endless terrain of the Midwest.
@IvyASmith
Leave a Comment