The Wizard of the Wasatch
Somewhere back in the powdered ladened lines of the Wasatch resides a wizard. Granted he climbs mountains instead of spiraling towers, carries poles instead of a wooden staff, and rides skis instead of dragons, but he's a wizard nonetheless. His name's Bob Athey, he has a beard that rivals Gandalf's, and he's been flying down fresh powder lines in the remote Wasatch for decades.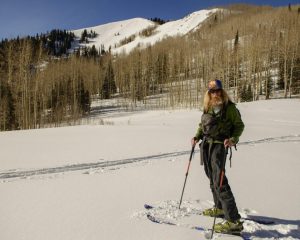 Athey started touring in the early '70s. He and his then girlfriend went up to the summit of the 10,700 ft Clayton Peak to attempt a graceful descent. "I thought I knew how to ski, and I was all cocky," Bob said as he was describing that first run. The reality didn't quite meet their expectations. Rather than hitting swooping turns down untracked lines, they sort of stumbled and fell their way down.
"I had 210 cm cross country skis, double camber, and shoes like that," he said, gesturing to my hiking boots. Translated from ski jargon, that basically means Bob was woefully ill-equipped for the downhill runs he was trying to make. However, that setup was standard for the time. For whatever reason, touring just wasn't widespread enough to warrant having its own gear yet.
"I spent several years falling down hills," Bob recalled, "but the equipment gradually improved." Soon, Bob was in a pair of nice telemark skis, which were leaps and bounds better than his previous cross country setup. At least the telemarks were intended for downhill slopes. Finally, the equipment was adequate enough to keep up with Athey's drive. Now, he was really hitting his stride.
By the '80s, Athey was bombing downhill as quick as he could. Unfortunately, the economy took a similar trajectory. Unable to get started in a solid career, Athey had to sign up for unemployment. Instead of hanging his head at his bad luck, Bob realized he now had just enough funds and more than enough time, to ski almost everyday. So he did. He called it, "the state ski team." Since the times were so tough, unemployment got a special extension. It now lasted for 52 weeks. "I was on unemployment for so long they thought I was unemployable."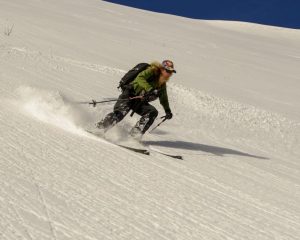 For a long time Bob ran his own construction company and would save up enough money to take the winters off for skiing. He started learning more and more about snow science, safely travelling in the backcountry, and touring in general. He submitted reports almost everyday to the Utah Avalanche Center, and did such a good job that a non-profit called Friends of the Utah Avalanche Center raised funds to pay him for it. For fifteen years, until 2007, he was the only paid, full time field observer.
Even with his deep knowledge of the snow, Bob hasn't been able to come out of every run unscathed. "I've triggered many, many, many avalanches." Bob said. One was especially nasty. It was off Gobbler's Knob and left Bob with a dislocated shoulder. While the injury was debilitating, the run got named after him, and Bob still has a sense of humor about it. "On their map they call it Bobsled, I call it Bobslid."
While having a run named after him helped cement his fame, his real notoriety came from a Salt Lake Tribune article. Bob had been on a day hike of Lone Peak one day with an editor of the Tribune. The editor thought Bob was a hilarious character, so he assigned a reporter to go skiing with him and write an article. The reporter, who also worked for the UAC, talked to her coworker there and asked him how this Athey guy had been skiing so much and hadn't died in an avalanche. The coworker responded with, "It's magic, he's a wizard." When the article came out the title was "The Wizard of the Wasatch" and the name stuck.
Today the Wizard of the Wasatch is as focused on touring as ever. He runs a website and instagram that aim to provide reliable snow reports to anyone needing the information. "It's ski touring up, skiing down, figuring out what the snow's doing, avoiding avalanches, skiing deep powder, the whole thing" that interests Bob. "It's not just the skiing," he said.
Bob's interest in snow science, dedication to getting out, and unique character have made him an infamous and beloved figure in Utah's backcountry community. Although his life has had its hardships, he said that it's been fun, and that he's not planning on stopping anytime soon. As long as the wheels on his car are turning and the snow is falling, the Wasatch will continue to host their resident wizard as he carves around its peak's most remote corners.
Photos by Peter Creveling.
Leave a Comment
About the Contributor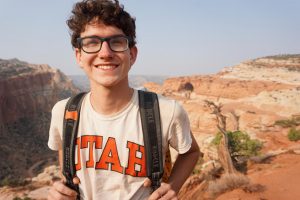 Nick Halberg, Editor
Nick is a senior studying philosophy and economics. He started with Wasatch Mag three years ago, and now is happy to be co-leading the publication as the Print Editor. He is passionate about environmental issues, especially ones regarding resource use. On weekends, he likes to explore new places in the desert.