Beyond The Mighty Five
Many Utah folk try to enjoy the outdoors. If you're among them, you're likely either a part of the classic motor-tourist family, or you're a semi-adventurous backroad traveler. If you identify with the former, you cram your trunk and zoom off across I-15, I-70, or some other highway to join the crowds craning their necks up in Zion, strolling along the canyon at Bryce, or waiting in line for their picture under a sweeping ceiling of stone in Arches. If you fit in with the latter, you might hit the backroads of Capitol Reef to stop in Cathedral Valley or brave the heat of Canyonlands to see The Needles. Either way, more likely than not, your itinerary will begin and end with the Mighty Five.
Amazingly enough, Utah's wilderness extends past the borders of its five famous national parks. While they are a sight to see, and worth many full days of exploration in their own right, confining your itinerary to include only those parks means you'll miss out on everything else our piece of the Wild West has to offer. Fortunately, there is another, less popular contingent of public lands endorsed by the Department of the Interior. They are our national monuments, and Utah is home to eight of them.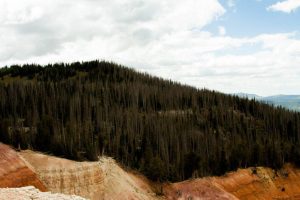 National monuments are not quite national parks, though they are often confused. Parks are designed to inspire awe and wonder in their visitors by showcasing some of the country's most spectacular natural features. Generally, monuments are smaller than parks, by at least about 2,500 acres. Monuments are far more specific; instead of highlighting a general region, like Zion Canyon or Yosemite Valley, they protect a specific resource for historical, scientific, or recreational use. They can be as small as a few blocks or as large as a couple million acres depending on how large the resource is. Monuments are typically less established than parks and see fewer visitors, meaning it is far easier to find a trail without tourists.
Dinosaur National Monument, which straddles the Utah-Colorado border, is home to one of the densest collections of dinosaur bones found anywhere. Since its founding, the 80-acre park has expanded to well over 200,000 acres and now encompasses vistas and canyons as stunning as anything found in Canyonlands. The best way to see the park is to imitate the late John Wesley Powell (the legendary, one-armed figure who first mapped the Grand Canyon) and raft from the Tolkein-esque Gates of Lodore to Echo Park along the Green River. These are undoubtedly the two most stunning areas of the park, and are both a long, circuitous drive on 4×4 roads, making a raft the best option.
Bears Ears is also on the list of historic marvels. The monument derives its name from a pair of buttes that distinctively mark a section in the area. The 1.35 million acres protects so many historically important aspects, listing them is nothing short of tedious. On the short list, there's Alkali Ridge, Hole-in-the-Rock trail, Grand Gulch, Big Westwater Ruin, and many more–as that's not even mentioning the deep traditional and cultural significance five different native tribes attribute to the land. Most of the protected area is undeveloped. The intent of the monument is preservation of these historic spots, not exploitation for recreation.
Up farther north, near Lehi, Timpanogos Cave sits under the shadow of its namesake mountain. This monument has no giant lizard bones or ancient villages, but the underground caverns are so fantastic, dragons would nest there if they ever existed. Follow a ranger on a guided tour through any of the three caves and be dazzled by the alien, underground world. To kill a day or two afterwards, you may as well hike Mt. Timpanogos, the second tallest peak in the Wasatch range.
While the weather is still nice, be sure to spend plenty of time exploring the largest of all the U.S. national monuments, Grand Staircase-Escalante. The monument's 1.8 million acres encompass three main areas: The Grand Staircase, a haven of scientific knowledge uncovered by a unique erosion process; Kaiparowits Plateau, a massive geologic wonder extending all the way to Lake Powell; and the Canyons of Escalante, a canyoneer's ultimate playground.
The next two of Utah's monuments are also best explored in tepid weather, and oddly enough, by car. Monument Valley, more widely known as the place where Forrest Gump stopped his famous "run," sits on the southern bord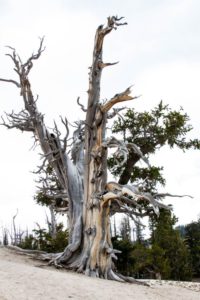 er, extending into Arizona. Go at night, find a spot that will allow you to comfortably face your tent east, and wake with the sun to one of the most classically western views in the world. Natural Bridges is famous for its very uncommon and non-classical views of rock bridges, as the name implies. Drive the loop around the monument and be sure to check out some of the largest natural bridges in the world. It's like a mini Arches with a fraction of the visitors.
When the weather finally does turn, head just a few miles outside of Brian Head to check out Cedar Breaks. Reminiscent of Bryce Canyon, the monument has a ranger cabin open during the winter months to greet you with a warm fire and cup of cocoa. Grab your cross country skis or snowshoes and trek out for a true winter adventure to one of the state's most gorgeous canyons.
National monuments are an explorer's chance to dig deep into the historic, geologic, and cultural wonders of our land. They preserve those places which heighten our legacy and preserve our heritage. They remind us of days past, when creatures five times our size roamed, or when settlers ten times our imagination travelled. They inspire us with their deep canyons and expansive views, and lift our souls to see the most beautiful aspects of the natural world. They set the foundation for a huge part of Utah's economy by establishing four of our state's beloved Mighty Five. They are as integral to our country as any national park, and should be protected, explored, and loved.
Leave a Comment
About the Contributor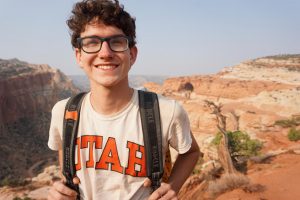 Nick Halberg, Editor
Nick is a senior studying philosophy and economics. He started with Wasatch Mag three years ago, and now is happy to be co-leading the publication as the Print Editor. He is passionate about environmental issues, especially ones regarding resource use. On weekends, he likes to explore new places in the desert.