To Meat or Not to Meat: A Flexetarian's Journey
I have not always been a vegetarian. I used the transition between high school and college as a transition into a more environmentally conscious lifestyle. I decided to take small steps in reducing my waste, and I suddenly became aware of all the plastic, styrofoam and other disposables surrounding me that I had previously overlooked. When my vegan friends commented on how limiting my meat and dairy intake could support my eco-friendly goals, I inwardly scoffed at them — I never thought I would be capable of making the switch. I used to call myself a carnivore, and I was proud of the fact that I ate chicken hearts by the forkful when I visited my extended family in Brazil. But, when I moved off campus the summer after freshman year and began shopping for my own food for the first time, vegetarianism found me. 
High-quality meat was overpriced in grocery stores, and after a couple of weeks of buying little to no meat, I realized I was falling into one of the vary diets I had shunned. About a month into my accidental change, I decided to make a more conscious effort to filter meat out of my diet. I had my last hurrah at Buffalo Wild Wings, then committed to only eating meat when I was not the one purchasing it. Not only did limiting my meat intake align with my minimal waste goals, but it felt right for my body. By the end of the summer, the thought of cutting into a juicy steak was no longer appealing. 
Elle-Rose Knudson is a steward at the Edible Campus Gardens at the University of Utah where she leads volunteer shifts and cares for the gardens. Knudson said that because of her work, her focus on sustainability pertains to food. Knudson calls herself a "flexitarian," a term which indicates her reduced intake of meat and dairy products, without imposing the pressures that a loaded label can have. Knudson researched sustainable diets for her high school senior English class, which launched her into personal experiments with vegetarianism and veganism. Knudson said that eating sustainably felt intuitive to her. "You get more energy out of eating food from the source, opposed to eating something that's eating the source," she said. A protein scorecard in the article "Sustainable Diets: What You Need to Know in 12 Charts" shows that consuming poultry, pork, dairy, beef, lamb and goat all have medium to high impacts on the environment. It is important to note that certain products produce more greenhouse gas emissions than others. From the same website, Janet Ranganathan and Richard Waite write, "One-quarter of the earth's land (excluding Antarctica) is used as pastureland, and beef accounts for one-third of the global water footprint of farm animal production."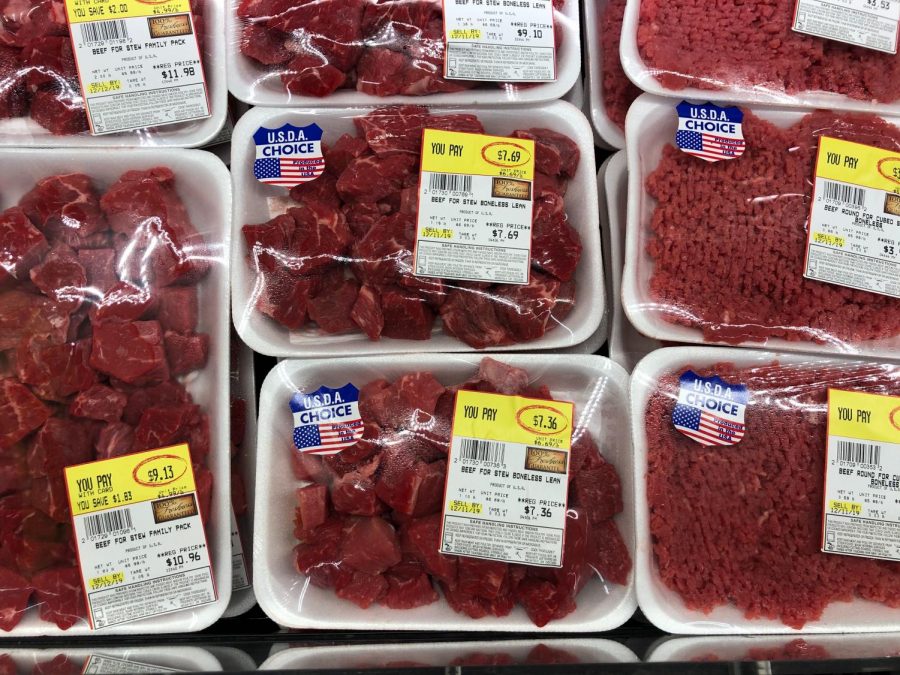 I believe that mass overconsumption is harmful to the earth, but I have questioned how much of an impact an individual can have. Knudson put things into perspective when she pointed out that it is important to calculate one's consumption throughout their entire life, as as opposed to singling out every minor decision. Each environmentally conscious person then has the ability to influence others. "It's like in those fundraisers where they say every penny counts; every vegetarian person counts," she said. 
Shifting my diet has led to certain challenges. Our society values labeling, which can be destructive, in that it feels confining, and can push people toward other extremes. When I first decided to eat less meat, I began eating more cheese than usual. I also felt guilty about declaring myself to be a vegetarian in omnivores' homes. On top of it all, I had to worry about supplementing my diet with other protein-heavy foods, such as nuts, beans and tofu. My solution has been to adopt the "flexitarian" mindset. I have avoided being impolite, I won't pass up free food opportunities and I'm not driving myself into a carbohydrate-and-cheese overload. Knudson explained that the key to navigating such dilemmas is believing in moderation. "Every person doesn't have to be vegan, but every time you make a choice that is less environmentally harmful than what you would have done before, it's going to help a little bit," she said. 
Today, I feel more physically energized and faithful to my sustainable pursuits. I try to avoid binaries, but I sometimes label myself as a vegetarian in order to raise awareness about my environmental concerns. "Working towards a sustainable lifestyle will always be a work in progress," Knudson said. Instead of being 100% anything, it is best to forget about the percentages altogether — instead, do what feels right and do what you believe in.