Top 5(ish) Salt Lake City Day Hikes
With Salt Lake's ski areas seeming to be on a collision course with an early closure, I figure there's no time like the present to get excited for the spring. I'm feeling optimistic today, and feel that the rather disappointing ski season is just an opportunity for extended day-hiking. With that being said, here, in no particular order, are my top five(ish) hikes in the Salt Lake City area, in the hope that we can all be excited for when the snow eventually melts instead of being disappointed that it's gone so soon. 
I'll start off with one that caught me by surprise: Frary Peak, the highest point out on Antelope Island. Up until I actually got out and hiked the trail, the island only conjured images of heat, flies, and brine shrimp. However, once I made my way out there with a couple of friends, I was greeted by anything but. Get past the first couple hundred yards of said heat and bugs, and you will be met with a beautiful, temperate, winding trail that takes you up and above the muck into a far more Wasatch-like atmosphere. At 6.9 miles round trip, this is a moderate but tiring day hike I'd recommend to anyone — there's even a knife-edgy scramble at the end if you're into that. 
Speaking of knife-edgy scrambles, next up on my list is the Pfeifferhorn, an iconic Little Cottonwood peak just south of the ski hills. At 11 plus miles and nearly 4,000 vertical feet, this one will take up your whole day but is definitely worth it. The trail leads hikers past the scenic Red Pine Lakes, shooting them up onto a long and narrow rock spine before a steep, rocky scramble to the summit. The length and technicality near the summit make this one a bit trickier, but the trek up to Red Pine Lakes alone is well worth the trip. 
Moving a bit further south along the Wasatch Front, next up is Lone Peak, one that had been on my bucket list of Wasatch peaks up until last summer. This is the most taxing hike on my list, at nearly 13 miles and 6,000 vertical feet. However, it is also easily the most rewarding. The thigh-burning Jacob's Ladder Trail at the beginning of the hike provides a challenge for any hiker, but leads into a basin so beautiful that it almost feels out of place in the Wasatch. The final scramble to the summit will test those with a fear of heights, and the summit itself is surrounded on two sides by sheer cliff faces hundreds of feet above the rocky basin. 
All this talk of basins leads nicely to my next pick, Alexander Basin and Gobblers Knob, up Millcreek Canyon. Like Jacob's Ladder, this is a heavy breather, with the first mile or two being unrelentingly steep. Once you emerge out of this section, you will be met with a wildflower-filled basin that, again, feels slightly out of place in the Wasatch Front. The 5.7 mile-long trail then traverses around and up the southern wall of the basin, before winding to the summit of the Knob. With the canyon being within walking distance of my childhood home, I frequented this basin growing up, and maintain that it's one of the most scenic trails up Millcreek. 
Moving north past the point of the mountain, my final choice is Mueller Park up in Bountiful. With hikes ranging from 4 to 19 miles, this series of forested trails fit all ability levels and schedules. Recommended to me by Wasatch photographer Kevin Cody, this is a great place to spend a full day or just an afternoon, to trail run or to stroll, to snap some pics, or just relax. It's less of a commitment than some of the other trails on my list, but is equally worth the trip.
Leave a Comment
About the Contributor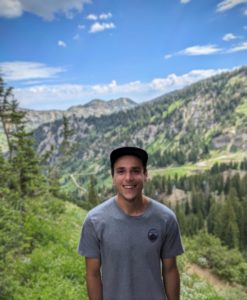 Will Ginsburg, Editor
Will Ginsburg grew up in Salt Lake City, and spent two years as a staff writer for Wasatch before becoming Editor this summer. He will be starting his fourth year at the U this fall, majoring in Writing and Rhetoric Studies. Outside of academics, he is a member of the men's Ultimate Frisbee team and a lover of the outdoors, with his main passions being snowboarding, skiing, and hiking.