Trip Feature: Bike-packing the Western Wildlands and Great Divide Trail
There's a saying commonly attributed to Lao-Tzu, a Chinese philosopher, that states, "A journey of a thousand miles begins with a single step." For Liam McDonald, a student at the University of Utah majoring in health and kinesiology with an emphasis on emergency medical services, a journey of over 2,000 miles on a mountain bike from Utah to Canada and back began with a single pedal away from his doorstep in Salt Lake City.
While most people had to cancel their plans for a big adventure trip this summer because of the COVID-19 pandemic, McDonald had the opposite experience. After wrapping up classes online in the spring, McDonald was left with a wide-open summer when his original summer employment fell through due to the pandemic. Like most of us, McDonald was initially inclined to stay home for the summer, but his friend Nick McEachern "whittled him down" and convinced him to do otherwise while remaining thoughtful about the new realities of COVID-19.
McDonald met McEachern five years ago through his brother, who is close friends with McEachern, and through the U's outdoor program where McEachern was completing a master's degree. McEachern had planned several long outdoor trips in the past, including a trip on a stand-up paddleboard from the source of the Colorado River in Wyoming to where it meets the ocean in Mexico, and he had the idea for a bike-packing expedition up to Canada from Salt Lake. McDonald was new to bike-packing, and was unsure a
bout going on so long of a trip for his first venture, but McEachern's persistence eventually wore him down. So, at the beginning of the summer, the two set about planning their trip.
The pair planned to reach Canada via the Western Wildlands route, starting in Utah rather than Arizona because of other realities of 2020 —wildfires and extremely high summer temperatures. They then planned to take the Great Divide Trail back down into Utah just in time for the start of fall classes. Their remote route — a biking and camping combo — would be the perfect way to maintain an appropriate distance from others while traveling. Additionally, they planned out drop points to pick up food they mailed to themselves to minimize grocery and restaurant trips. McDonald picked up a hardtail mountain bike and bike bags using his COVID stimulus check and unemployment funds, and soon the only thing left to do was take the first step on their adventure and bike out of Salt Lake.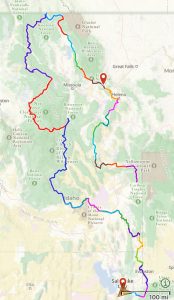 "The first week was super exciting. It was really cool to start from Salt Lake City, and we biked through the Uintas, which was also cool. But, it was also the first time I'd ever been bike-packing, so that made it really exciting and definitely really hard." McDonald found that his bike, which had fewer gears, had less of a cadence on the trails and roads, and it was a difficult adjustment to riding 50-70 miles each day.
"Biking through the Uintas was definitely a wake-up call — like this is what the next two months are going to be like." The next few weeks were also difficult. The farmland through southeastern Idaho didn't offer much to see besides cows, and McDonald found he was craving home and a comfortable bed. He thought about bailing and going home but eventually settled into the rhythm of a daily ride, setting up camp and preparing to embark on the next leg.
"I kind of always got centered back to, this is really cool — I'm really glad I'm doing this. I'm really glad I'm with my friend, and I'm glad to be outside of Salt Lake City for a while," McDonald recalled. "I started thinking about the end goal of at least getting myself to Canada. But after we got to Hailey, Idaho, kind of where the Sawtooth [Mountains] are, you start going through a bunch of mountains and national forests, and then it was just pure joy every day."
On the final day of the journey, McEachern and McDonald started 75 miles from the Canadian border. After a morning of quick miles, they decided to keep going until they reached the border. Once they got there, it began pouring rain. Because the border is currently closed to Americans, they were watched carefully by border patrol agents and followed back into the U.S. Then, they trekked the 10 soggy miles back to the town of Eureka and treated themselves to a stay in a hotel to celebrate their accomplishment. The pair made an additional pit stop in Whitefish to visit a friend.
"The whole trip involved getting accustomed to being uncomfortable. Whether it was my butt hurting all the time, being tired all the time or eating rice and beans every night, it was hard to get back into a comfortable place [and then leave it]. But, after the first day of leaving Whitefish, we kind of got back into the groove," said McDonald.
McEachern and McDonald embarked on the Great Divide Trail back to Utah, seeing a few more people on the more popular route. After a period of isolation during their first few weeks, it was fun to be able to see how other people were bike-packing. Meeting new people after months of quarantining was also a welcomed experience. McDonald and McEachern ended up camping with new people every night, sometimes running into friends of relatives or a friendly trail angel on a llama farm offering sandwiches, cold beer and a campsite for the night. The relative isolation of the first weeks of their trip followed by seeing people again mimicked the experience of quarantining early on this spring and provided some food for thought.
While the trip was a meaningful break from the monotony of quarantine, McDonald couldn't fully forget the context of their trip. "[COVID-19] was pretty present on our minds the entire time. And, you know, I definitely felt a little guilty because doing a big trip is somewhat inherently selfish… We were super privileged to be able to do this big trip when a lot of people are suffering." Making sure they interacted with people responsibly on their trip allowed McDonald and McEachern to minimize their impact on local communities and have a big adventure.
In the end, McDonald and McEachern cycled 2,277 miles and climbed over 219,934 feet in their 48 days on the road. They had to end their journey 300 miles short in Driggs, Idaho to get McDonald back to Salt Lake for the start of fall classes the next day, and the quick transition didn't allow a lot of time for processing their experiences. Looking back now, McDonald really appreciated the opportunity to get out of isolation and back into the world, "There's moments where you can look around… and understand where you are, and feel pretty at peace, alone and small," he said. There was a moment on the trip when McDonald and McEachern spent a rainy couple of nights in an isolated watchtower in Idaho with a 360-degree view of pristine wilderness, taking in the scenery and sunsets that really drove that feeling home. Biking itself, despite McDonald's initial hesitance, also became a meditative practice by the end and is something McDonald misses now that he's back in the stress of school.
"I really appreciate my friend [Nick McEachern] for getting me to do it. It helped me realize how important it is to get out of your comfort zone." McDonald is also grateful McEachern pushed him through the difficult moments when he wanted to quit. Overall, the trip increased McDonald's confidence in himself as an outdoors-person and was an exercise that pushed him to problem solve and learn new skills that he can take with him on the next trip.
"I definitely want to do more bike-packing. [The trip] got me excited to plan more big adventures. And even if circumstances with COVID make it less possible to do some of those right now, it is fun to plan stuff and know that at some point, even if it's years [from now]… we can go on even more adventures."