Trodding Across the Trans Zion Trail
After a full summer of living 30 minutes from Zion in the often overlooked and mispronounced town of Hurricane, Utah, my girlfriend Libby and I found ourselves avoiding the park. We had explored all of the big hikes in the main canyon, squeezed our way through some slots off the side of the main roads, and camped on top of the main rims. Just as I felt our recreational opportunities in Utah's flagship park were expiring, I looked at the map. There, right smack in the middle, was an empty field. The only mark cutting through it was a series of dashed lines forming a winding path: the Trans Zion Trail. This past fall break, we finally worked out a window large enough between her work schedule and my classes to give it a shot.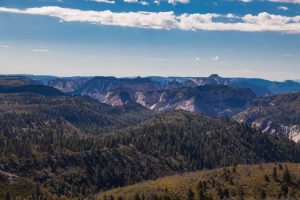 The Trans Zion is a beautifully classic, almost 50-mile backpacking trip that links paths starting from Lee Pass Trailhead in Kolob Canyon to the east entrance of the park. It is one of the most easily accessible and spectacular multi-day trips in any park in Utah, and it offers solitude that cannot be found near any of the more popular parts of Zion. Because of time restraints, Libby and I decided to start at the traditional beginning (Lee Pass), but end at The Grotto, cutting out the East Rim, ending in the main canyon instead of the east entrance.
Our itinerary was moderate, averaging 10 miles a day. Some people run the whole trail in a day, others take nearly a week to complete it. Since permits are needed for every camp, you will have in the backcountry, day mileage as well as trip length is heavily determined by the availability of those permits. We lucked out and ended up with the following itinerary.
Day 1: Lee Pass TH to Hop Valley A (about 9 miles)
All Trans Zion trips start at Lee Pass, which means you'll need two cars or a shuttle. Libby lives in Hurricane still, so her friend dropped us off, but Zion Adventure Company also provides this service for those without such connections. From here, we followed the La Verkin Creek Trail for 6.9 miles until it met up with the Hop Valley Trail. Near the very end of La Verkin Creek is Kolob Arch. It's only a quick 1.2 mile detour, and it is absolutely worth the 30 minutes it takes to see it. Campsite 10 is just past this junction, and Beatty Spring is usually flowing there. It'd be a good idea to fill your bottles here, or in the creek itself, before heading up the steep switchbacks to the Hop Valley Trail. There was not water above the switchbacks for us. We camped in Hop Valley A, a picturesque camp hidden in a grove of Ponderosas beside a sandy wash, but any of the later spots along the La Verkin Creek Trail (ideally camps 7-10) would provide a similar mileage day. Hop Valley B is another good option.
Day 2: Hop Valley A to Wildcat Canyon Dispersed (about 13 miles)
Rise early to get out of Hop Valley before the sun is too high. The trail is beautiful, yet sandy; I would not want to slog through there at noon with a heavy pack. After about 5.5 miles, we reached the Hop Valley Trailhead. Unfortunately for us, it was here that we discovered Libby had fractured her knee and had to quit the trail. Had we continued, however, we would have followed the Connector Trail 4 miles, passing the beautiful Pine Valley Peak on our right, and joined the Wildcat Canyon Trail. From there, we would've continued about 3.5 miles until reaching the beginning of the dispersed camping zone, where our permit would have allowed us to camp anywhere out of sight of the trail. The backcountry office told us that Wildcat Canyon Spring was flowing, so we would've had water nearby our camp.
Day 3: Wildcat Canyon Dispersed to West Rim 5 (about 8.5 miles)
We would've spent the day more or less on the West Rim Trail. Depending on where we camped in the Wildcat Dispersed zone, we may have had about a mile before joining the West Rim. Once there, we would encounter some steep sections, but the views, I've heard, are unmatched. Again, the backcountry office told us that West Cabin, Potato Hollow, and Sawmill Springs all had at least a small water flow. Any site towards the bottom of the West Rim would be ideal (meaning sites 1 through 5). The even numbered ones are put online for reservations, so they're likely taken already, but the others are kept for walk-ins. We had to get to the visitor center early the day before our trip so we could be first in line to grab a spot when the doors opened at 8 a.m.
Day 4: West Rim 5 to The Grotto (about 6.5 miles)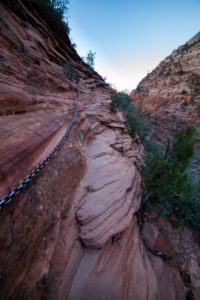 This final day should've be the easiest. It's pretty much all downhill (so anyone with bad knees will rue this day) as we would've hiked from our site to Scout Lookout, where we should've been able to add a quick 0.8 mile detour hike to the top of Angel's Landing, and eventually end at The Grotto. From there, we planned to take the park shuttle back to the visitor center where our car would be waiting.
Needless to say, Libby and I were disappointed we couldn't finish the trail. The one night we did get to spend in Kolob enchanted us with a sky heavy with stars and orange cliffs that glowed during sunset. Ain't no valley high enough and ain't no canyon low enough to keep us from getting to Lee Pass again soon.
SaveSave
Leave a Comment
About the Contributor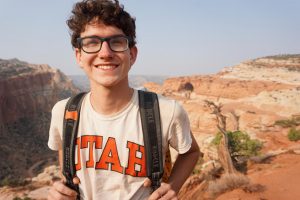 Nick Halberg, Editor
Nick is a senior studying philosophy and economics. He started with Wasatch Mag three years ago, and now is happy to be co-leading the publication as the Print Editor. He is passionate about environmental issues, especially ones regarding resource use. On weekends, he likes to explore new places in the desert.