U Student Goes for Her PhD in Through Hiking: Caroline Himbert Hikes Thousands of Miles and Raises Money for Cancer Research
On May 3rd, Caroline Himbert, a third year PhD student in Population Health Sciences at the University of Utah, boarded a plane for Tucson, Arizona. From there, she bussed three hours to Lordsburg, New Mexico, a small desert town with a population of less than 3,000, and caught a shuttle south. After a long drive, three hours of which was on dirt roads, Caroline stood alone on the hot, dusty border of Mexico and watched her shuttle drive away. There, alone in the desert, Caroline thought "well, I guess I'll walk to Canada now" and took the first step of her 3,100 mile journey. She plans to finish the Continental Divide Trail 100 days later.
The United States is home to three famous trails: the Appalachian Trail (AT), the Pacific Crest Trail (PCT), and the Continental Divide Trail (CDT). All three are long, each practically spanning the vertical width of the US. Most people typically hike one of the trails in three or four months. In 2016, Caroline caught the through hiking bug by burning through five pairs of boots on the PCT. "It was a life changing experience" she said. "The trail definitely gives you something," something, presumably, deeper and more spiritual than the free beer and spa day all through hikers get from the ski resort at the end of the trail.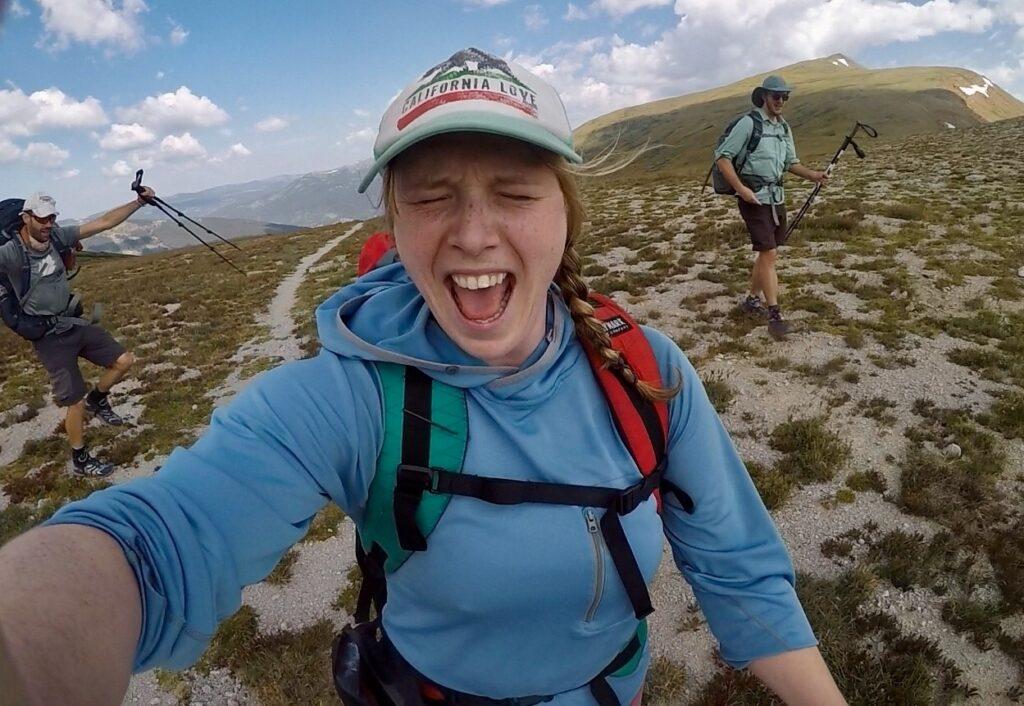 Paramount among the trail's many gifts, Caroline claims, is the community of hikers and townspeople who populate the route. Early into Caroline's PCT trek, she met a pair of through hikers known by their trail names: Muffin and Toddler. "We caught up with each other like cat and mouse for about two weeks. We chatted and talked about earthquakes," Caroline remembers. Having moved over from Germany just prior to starting to her hike, however, she accidentally said "earthcake" through the conversation. Weeks later, Caroline ran into Muffin and Toddler again. They reminisced about funny moments for a while before somebody proposed that 'Earthcake' become Caroline's trail name. After taking a moment to think about it, she accepted. "I love baking," she said. And she had been told that she was "always covered in dirt." The name fit and by the end of the trail all the hiker logs she passed were signed by Earthcake.
However, not every moment of the PCT was pleasant. "There were days I hated every single rock that I hit with my foot." In fact, the first rain Caroline encountered, on day 110, pushed her to the limit. "I realized pretty quickly what the difference was between water resistant and waterproof," she said. "I got soaked by this nice, cold Washington rain."
By the time she reached camp, both her and her hiking companion, by this point a hiker named Goat, were shivering and borderline hypothermic. She rushed to set up her one person tent and spent a cold 24 hours huddled with Goat. "We were running out of food. We didn't know how to get off trail. We only knew we that we had to follow the trail." She remembers thinking, "I don't know if we're going to survive this." Fortunately, the next morning brought 15 minutes of sun. Caroline and her fellow through hiker dried out their gear and pushed ahead to their next resupply, safe, sound, and only a little worse for wear.
Undeterred, Caroline now has her sights set on an even more ambitious goal. "The CDT is called the PhD of the through hikes" she says. Rightly so– at 3,100 miles, the CDT is nearly 900 miles longer than the more famous Appalachian Trail and 450 miles longer than the PCT. It is only about 80% complete, meaning that there are parts where she'll have to figure out a way to connect the sections of trail. In 2018, only 75 people completed the full 3,100 miles. For comparison, that same year over 700 people summited Everest.
Caroline admits to being addicted to through hiking, but her underlying motivations are more altruistic than just personal pleasure. Each time Caroline begins a trip, she launches a fundraiser to support the fight against cancer. Her PCT campaign raised over $10,000, which was split between the Huntsman Cancer Research Institute and a cancer research center in Germany. She also previously ran campaigns for specific patients. One of Caroline's smaller hikes raised another $10,000 to support a cancer patient she was working with whose medical bills forced her to move out of her apartment.
More so, however, Caroline hopes to raise awareness about the importance of lifestyle in cancer prevention. "My research is on energy balance, physical activity, and how exercise can prevent cancer", research she finds that does not frequently make its way into the public sphere. "Everybody thinks 'I should just quit smoking' but there are so many other factors that you can use to prevent cancer."
This year, Caroline is again raising funds for the Huntsman Cancer Research Institute. Donations to her campaign can be made at https://hope.huntsmancancer.org/virtualhero/caroline-himbert and her journey can be followed on Instagram at @im_earthcake. She'll be posting updates whenever she has cell service as well as saving stories to her highlights so you can follow along even if you miss portions. Caroline probably won't luck out with 109 consecutive days of sun like she did on the PCT, but she said she's upgraded her rain gear. Come August, I suspect that Earthcake signatures will mark the pages of trail registers up and down the CDT.
Leave a Comment
About the Contributor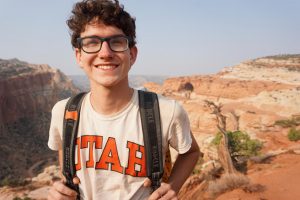 Nick Halberg, Editor
Nick is a senior studying philosophy and economics. He started with Wasatch Mag three years ago, and now is happy to be co-leading the publication as the Print Editor. He is passionate about environmental issues, especially ones regarding resource use. On weekends, he likes to explore new places in the desert.