Utah's Backpacking Gems
Summer brings about the liberation of one of life's most valuable resources — time. For the adventure-minded, more time means longer trips, and longer trips usually mean backpacking. In a state where outdoor recreation is world class, there are surprisingly few trails long enough to warrant a hearty backpacking trip. When excavated deep enough, however, a few diamonds emerge from the rough. Here are some of the shiniest.
Coyote Gulch
This is one of those places so famous in Utah that it's hard to live in the state one month without having heard of it. Located about 33 miles down Hole in the Rock Road in Escalante, Hurricane Wash provides the ideal trailhead for a longer trip into this area. Typically, the 26 mile trail is hiked as an out and back at 13 miles each way, but a shuttle car can be used at one of the many other trailheads leading into the gulch to cut out some distance. Coyote offers beautiful scenery all around the trail, two different arches, a hidden lagoon, and numerous other unique points of interest. Since it is backcountry, waste should be packed out and fires are prohibited. A free permit is required, and it can be picked up at nearly every trailhead.
Uinta Highline Trail
For a traditional, high alpine, long trek, look no farther than the Uintas. The mightiest range in Utah is home to one of the most stunning backpacking trails the state has to offer. Over 100 miles of elevated path guides the way across some of the most stunning points in Utah, including King's Peak. Never dipping below 8,000 feet, the trail is snowed in, and it is typically not passable until July. When hikeable, the trail boasts a ridiculous amount of wildlife. Everything from moose to coyotes are common. As part of this, it is maintained, but rough and remote. At times, only spaced out cairns will mark the way, so a good map and navigation skills are critical for anyone interested. No permit is required.
West Rim Trail
Arguably Zion's most famous backpacking trip, the West Rim Trail offers a perspective of the massively popular park that most of the tourists will never see. Starting at Lava Point and descending 19 miles into the bottom of Zion Canyon, this trail renders views of both back- and front-country. It can be done as a strenuous day hike, but taking two days allows time to tack Angel's Landing on to the end of the second day as a bonus. If done as a multi-day trek, a backcountry permit is necessary, and camping is restricted to one of the nine backcountry sites.
Narrows Top Down
The Narrows is arguably Zion's second most famous hike, conceding only to Angel's Landing. In order to see all of it, however, you'll need to hit it from the top down. This is a 16 mile hike, starting at Chamberlain's Ranch descending a steady 1,500 feet to the typical Narrows trailhead. A shuttle will be needed to get you from the park to Chamberlain's. This hike is usually not possible in spring due to the high water flow. If the river is running over 120 cfs, Zion will close the Narrows. This means June is usually the earliest the hike is open. Like the West Rim Trail, the hike can be done in a day, but who would pass up a chance to camp in the Narrows? A permit is required for both the overnight and day trip options.
The Maze
The Maze district in Canyonlands is a classic Southern Utah trip. Hard to access trailheads surround one of the most remote places in the lower 48 states. Little water is offered throughout the treks, so careful planning and preparation are required. Due to its inaccessibility, trips are rarely shorter than three days. Many routes contain low grade climbing maneuvers and a 25 foot rope is recommended to shuttle packs up. Many of the hikes are exposed, and hot in the summer. It is best to go in fall or spring. When there, be cautious. This place is truly extreme and remote. Self sufficiency and proper preparation are essential for enjoying your time in The Maze. However, a successful trip can be rewarding as the area is stunningly beautiful, and solitude is easily found. Permits are required for all trips to The Maze.
Leave a Comment
About the Contributor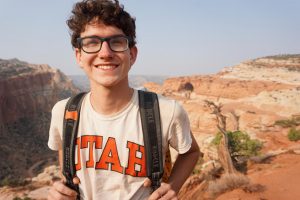 Nick Halberg, Editor
Nick is a senior studying philosophy and economics. He started with Wasatch Mag three years ago, and now is happy to be co-leading the publication as the Print Editor. He is passionate about environmental issues, especially ones regarding resource use. On weekends, he likes to explore new places in the desert.