Visit and Protect Our Parks
This year has been challenging, to say the least. There isn't much to do when you're quarantining at home for an extended period. Luckily, the outdoors can provide safe and unique experiences. One of the best places to visit in order to stay active and break the redundancy of isolation life is a national park.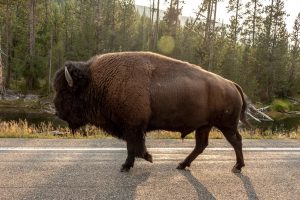 Utah is home to five national parks — Zion, Arches, Capitol Reef, Canyonlands and Bryce Canyon. At the beginning of the year, when quarantine rules were first enacted, national parks were shut down across the United States. These closures yielded unexpected results. Rangers started seeing animals they normally wouldn't throughout the parks. The closures allowed animals to come out of their usual hiding spots and reclaim their spaces. For example, at Yosemite National Park in California, people started viewing bears at an unusual frequency.
After a few months of being closed, the parks were opened to the public again. According to the AARP, Yellowstone had a 2% increase in visitors in July 2020 compared to July 2019. Unfortunately, with the increased number of visitors this year, several issues have arisen. One such problem is that parks have become overcrowded and parking lots have become full. The National Parks Service has encouraged visitors to wear masks in crowded areas and when social distancing is not possible. Every park has its own guidelines and some parks, such as Acadia National Park in Maine, require visitors from other states to either quarantine for 14 days or provide a negative COVID-19 test result before entering. Some places get especially crowded, such as the Old Faithful Geyser at Yellowstone in Wyoming, and despite the fact that the park strongly recommends that people wear masks, there have been several reports about visitors not following this recommendation.  Along with more people, there have also been more reports of littering. Visitors sometimes discard their disposable masks in the parks, which affects the animals inhabiting them and damages the environment.
During this time, visiting a national park is a great way to get outside and enjoy nature. However, you should be sure to follow all the guidelines in the parks you choose to visit. By social distancing and wearing masks when around others, as well as by being mindful of Leave No Trace principles, you can help preserve the parks for future use.