Wasatch Eats: Pretty Bird Chicken, Salt Lake City
Wasatch Eats: Pretty Bird Chicken, Salt Lake City
Many people forget that you don't have to drive all the way to the Uintahs or down to southern Utah to enjoy the beautiful scenery our state has to offer. Salt Lake City itself offers so many places to explore for our students and community- hiking in the foothills, hanging out up in the avenues or mountain biking down the Bonneville Shoreline Trail.
I don't know about you, but the thing I always think about after either hiking, biking or exploring is that I need to do some good grubbing. What better place to eat after adventuring the trails in our beautiful city than right in the heart of downtown Salt Lake?
Recently, I ate at Pretty Bird, a chicken sandwich shop located at 146 S. Regent Street. A friend and I were looking for somewhere new to feast when we walked down Regent and noticed that this place had a line halfway down the street. At first, we passed it up, because we didn't want to wait that long, until we got close enough to smell the sweet and savory aromas of chicken that came from Pretty Bird.
How could chicken smell sweet, you ask? Well, the sauce that Pretty Bird uses on their chicken has a cinnamon taste to it. We ordered a fried chicken sandwich and a quarter pound bird with a side of their fresh crinkle cut fries. The plates were so good that we both ended up with hiccups from eating too fast.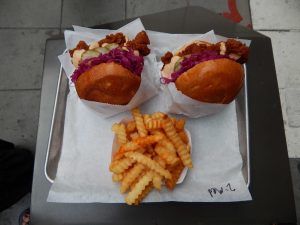 Pretty Bird has four levels of spicy— mild, medium, hot, and "hot behind." I tried their "hot" flavor and it had me in tears, so if hot foods aren't your thing, be careful of what sauce you choose for your chicken.
The chicken shop opened up in late February, by renowned chef Viet Pham. To get there, you can park for free at City Creek Mall for up to two hours and take a five-minute walk to the restaurant. Even though the line can be long, there are a few places for customers to sit when they dine inside, and the restaurant recently opened up an outdoor patio. There you can enjoy the scenery of historical Regent Street with some adult drinks such as Pabst Blue Ribbon beer and canned wine. Out front, you can hear people tinkle around with the piano, placed by the People's Piano Project.
As a lover of chicken, I can honestly say that I have never had a better chicken sandwich than Pretty Bird's. If you are looking for a tasty, filling meal that won't break the bank, or new eating experience after doing some awesome outdoor activities in our city, then I highly suggest you take a stop at Pretty Bird. Don't wait until the end of the night— the shop often sells out.
Sierra Marty
Leave a Comment
About the Contributor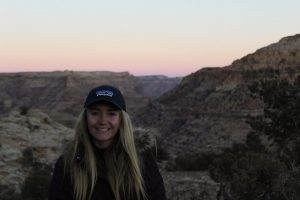 Sierra Marty, Writer
Sierra Marty is in her fourth year at Wasatch Mag. She is pursuing degrees in political science, criminology and social work. Being outside for her is an escape from a busy schedule. She is passionate about environmental advocacy and justice and has enjoyed learning more about these issues through her involvement on the magazine. Her favorite outdoor sports include trail running, peak bagging, fishing and backpacking. Her favorite thing about being apart of Wasatch is watching her coworkers have the opportunity to showcase the outdoors and encourage other students on the University of Utah campus to get outside. During quarantine, she has been spending copious amounts of time listening to serial killer podcasts and binge-watching criminal minds; but also doing a little bit of hiking.