Weekend escape: Bridger Bowl, MT
For the last six years, I've had a low-priority objective of trying out new ski areas in Montana. After people filled my ear with good things about Bridger Bowl just north of Bozeman, I figured it was time to explore a new hill.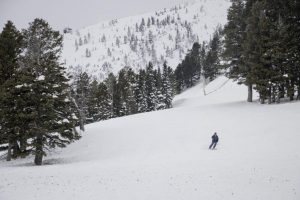 Bridger is only a 20 minute drive from Bozeman. The mellow paved road is a plus for those of us without four-wheel drive vehicles, or with a minivan like yours truly. Bridger Bowl is often overlooked by the larger Big Sky Ski Resort further southwest, but the short drive and cheap price beat out Big Sky in my mind. The key is the little ski area vibe. While little resort gems dot Montana, Bridger Bowl offers that same feeling, plus big slopes. As expected, there are rarely lift lines, but it has a few resort-like amenities with reasonably fast lifts and nice day lodges for eating and resting.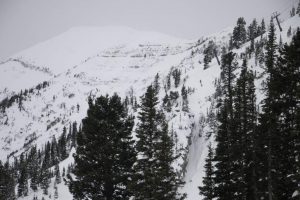 The big terrain I was told about did not let down, and it's immediately obvious why Bridger is known for its ridge terrain. Booting up just a little from the top of the lifts gives access to almost always untracked snow in steep cliff areas, trees, and couloirs. This ridge terrain is technically backcountry, but it's easily accessible. An entire lift at Bridger requires that skiers wear a beacon because of increased avalanche danger.
The wide swath of terrain to explore and frequent good snow, or "Cold Smoke" as they call it there, will keep me coming back for more to explore. If you're ever in the area, ski Bridger Bowl for a relatively cheap $57 (compared to SLC resorts around $80).
Going to a new ski area for the first time is a fun mini adventure in itself. It's always enjoyable to explore a new place and try to discover little moments of gold in between runs. The views of the Absaroka Range towards Yellowstone National Park and the Crazy Mountains towards Central Montana were amazing. At the end of the day, skiing Bridger Bowl marked skiing eight of the 16 bigger ski areas in Montana, a nice halfway point for an objective I hope to finish some day.

Photos by Chris Hammock
Leave a Comment