What to Do with College Breaks
In college we live day to day, week to week, moving through the world with minds full of algorithms, due dates, and weekend plans. By the time a break rolls around, we have no plans. What to do, what to do … binge Netflix? Start that looming craft project we claimed was going to be our new hobby? Alas, it's too late to plan an adrenaline-provoking adventure. Or is it?
Salt Lake is a valley abundant with outdoor bustle, but as an out-of-stater or maybe someone who has yet to discover their inner adventurer, planning a trip can be hard. Knowing where to go, what to bring, and how to get there can be an intimidating set of challenges. Here is a list of ideas, tips, and resources designed to alleviate that stress and make this break and the breaks to come exciting, ambitious, and safe.
For starters, knowing where to go is half the challenge. Location determines the activities, agenda, and gear that you will need. For a winter break, like the one we have coming up, camping and sleeping outside might be challenging due to temperature. However, this coming spring break, the weather will be far more accommodating. Places like Moab, Zion, Bryce, and Canyonlands are excellent options for recreating but are often crowded. If you're looking for a more secluded alternative, The San Rafael Swell, Kanab, Fantasy Canyon, Church Rock, The Little Grand Canyon or Grand Staircase Escalate could all be good spots. Although these places are common recreation areas, they experience less traffic than Utah's national parks. This means there are more camping opportunities, trail access, parking, and chances for seclusion. All the options I've mentioned are located in southern Utah. These desert regions can be more forgiving, temperature-wise, than the snow-covered alpine regions of the state.
The Utah desert offers world-class hiking, mountain biking, climbing, canyoneering, river running, and general recreating. However, these activities require a level of expertise and hard skills to execute successfully and safely. If you are looking for an immersive activity like those listed above, Outdoor Adventures (OA), located on campus, can be a really great place to rent gear, maps, and gain beta. The students and staff that manage OA have vast knowledge and are stoked to help. For the more amateur outdoor enthusiast, car camping can be a really peaceful opportunity to spend time outside embracing the beauty of the landscape. This option still lends itself to day hikes, sleeping under the stars, enjoying a (safe) campfire, and refreshing the body and mind before returning to school.
However, if driving that far away feels too ambitious, there are exciting alternatives close to the city. The West Desert, located on the other side of the Oquirrh mountains hosts the salt flats, Great Salt Lake and hot springs. Of course, the Wasatch mountains will be an excellent spring skiing environment. Some of the greatest adventure can be local!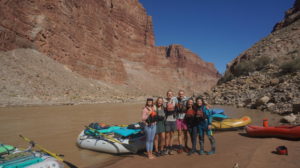 Once a location has been secured, apps like All Trails, Utah.com, Gaia, Strava, and Chimini National Parks Guides can all be helpful resources to accumulate beta and trails. Additionally, you'll want to know where you can get water along your journey. If you're camping at a campground, check to see if they have a spigot. If you're taking on a backcountry adventure be sure to bring filtration devices. This could look like a clay pump, iodine tablets, a SteriPen, or any kind of filter capable of filtering out particles and bacteria. In addition, planning food can be tough when you don't know what resources you may have at your recreation spot of choice. Always pack enough food to last you for a few extra meals. Even if you don't plan to stay for many days, you are always hungrier after spending time outside in the elements than expected.
When packing, be thorough and bring layers, thick socks, gloves, a warm sleeping bag, a sleeping pad, tough shoes, durable activewear, and sun protection. It's also crucial to bring a headlamp, cooking equipment, coolers, and reusable dishware in addition to a tent and other protective equipment you may need.
If all of this sounds overwhelming and you feel you don't have the knowledge, time, resources, or group to plan a trip, consider an adventure offered through the school. Outdoor Adventures offers trips guided by other students. Some of their options for trips include climbing, backpacking, and river adventures, in addition to many other opportunities. The Bennion Center is another great option when looking for a productive and exciting break. The Bennion Center offers service experiences called "Alternative Breaks." The center coordinates with areas in need within Utah and throughout the West to help students get involved in their communities. There are trips reaching as far as Canada available!
Getting outside during breaks doesn't need to be overwhelming. Planning and arranging, while stressful, can be a fun change of pace when studying during the semester. Almost always, the mere opportunity to get fresh air, take deep breaths, and meet new people will be the memories we remember in college. Take advantage of that. Go out, get outside and channel your inner adventurer.
Leave a Comment
About the Writer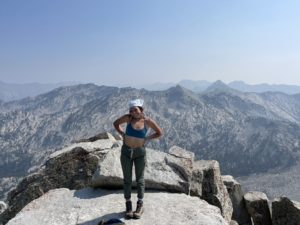 Lauren Shields, Writer
Ren is a senior at the University of Utah, studying child psychology and environmental science. She dedicates most of her time to school and the U's female/non-binary outdoors club, Backcountry Squatters. Ren is an outdoor enthusiast and, per the description, loves boating, skiing, climbing, backpacking or anything else outside. Additionally, she loves to write creatively through poems, short stories and journalism via The Wasatch mag. Ren is preparing to graduate next spring and getting excited about the future ahead and assessing how to bring her hobbies into her life and career.