White Pine Lake Might Be an Uphill Battle, But It's Worth It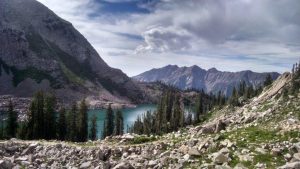 When you set out to hike in the Wasatch, you have to accept that nine times out of 10 there will be an uphill struggle. Usually I'm up for the struggle because 100 percent of the time it's worth it, which is why when I heard about the White Pine Lake hike in Little Cottonwood Canyon, with slightly more than 2,500 feet of elevation gain, my interest was immediately piqued.
The White Pine hike is about 10-miles round-trip. To be honest, this didn't sound too bad — trudging up mountains is one of my favorite pastimes. First, like any good and experienced hiker, I acquired a hiking companion: my dad. He also happens to be a trail runner and pretty much lives for criss-crossing the Wasatch. Even though I can't even pretend to be on his level, I enjoy his knowledge, quick pace, and sense of humor.
We planned on heading up on a Tuesday when the masses would hopefully be confined to the city. I usually like to get an early start when I'm heading out on longer hikes, but because of my dad's schedule we planned to get on the trail by 3 p.m. I was a little skeptical about the late start time. My dad, however, brushed it off with confidence.
"We'll be able to bust out our ascent in two hours, no problem," he said. This statement coming from the mouth of a trail runner didn't exactly ease my concerns.
As it usually goes, we ended up on the trail about 20 minutes later than anticipated, due mostly to some road construction up the canyon. This was just a minor setback though, and soon enough we were pulling into the half-empty parking lot and strolling up the trail.
The path is actually an old mining road, so it is clear-cut and easy to follow, with loose gravel underfoot. This unstable ground isn't really an issue until you reach the fork in the trail where you go left for White Pine lake and right for Red Pine lake. Once you hang the left, your uphill struggle has officially begun. The gravel on the steep sections made me want to give in to my slipping feet and just slide back down, sit under a tree, and pretend I made it — luckily I'm too stubborn for that, and I wasn't about to let my dad get to the top without me.
The trail is incredibly beautiful, with pines and aspens creating much-needed shade on a hot summer afternoon. There were also quite a few clouds in the sky, and the temperature was pleasant, with a breeze that kept the biting flies at bay.
Soon after we started up the White Pine fork we spotted wildlife: a young deer near the trail, lightning fast chipmunks, and pretty birds we couldn't name. To top it all off, the wildflowers were just starting to bloom. All along the side of the path, vibrant reds stood out among shades of blue, white, pink, and yellow flowers. The diversity of the trail kept me enthralled, with aspen groves one minute and an open alpine meadow the next, with picturesque little waterfalls sprinkled in between.
After all this, we reached the treeline and exchanged green meadows for barren boulder fields. This is one of my favorite moments on any hike. You're suddenly able to see for miles, and all the peaks seem deceptively near and conquerable. At this point there is also a clear view of the trail winding ahead of you.
The clouds looked more ominous as we rounded the final switchback and caught our first view of the lake. It was perched about 500 feet below us and reflected a deep blue-green color. We made the small ascent to rest our legs by the water for a few minutes. There were only two other people by the water, so it was easy enough to find a quiet boulder and enjoy some snacks in solitude.
It turns out my dad's predictions weren't as off-base as I had thought: We made it in just two hours and 20 minutes. Though it didn't end up raining on us, we made our trip down a quick one. I savored the downhill as a time to concentrate on keeping my footing and clearing my mind of everything else. We were off the mountain and back on the highway all too soon, and I was already looking forward to my next adventure.
If you're up for a bit of a challenge and some serious Wasatch beauty, then plan on a trek up to White Pine Lake. Our canyons are so close to home that there is no excuse not to lace up your hiking shoes and hit the trail.
@Unchained116
Leave a Comment