winter cooking in the backcountry
You have just finished a seemingly endless day of snowshoeing up to Lake Blanche. You are cold, exhausted, and starving, but it is 5 p.m. already and the sun has just a few rays left peeking over the far side of the valley. What you need is a warm, big bowl of something delicious to spur your camp set-up; but nothing sounds more unappealing than cooking a traditional meal while your hands slowly turn to icicles. Luckily, your friend has come prepared with retort meals to save your stomach (and hands).
Retort is a method of cooking where all food is prepped at home and put in bags to reheat in boiling water. It is by far the easiest and most efficient way of getting a meal out of your backpack and into your mouth. Although fairly simple, here are a few tips to make the process even smoother.
The looser the meal, the faster the reheat time. This means soups, chili, sauces, and broths are ideal.

Cut up large chunks of food. Big pieces of meat, potatoes, vegetables, etc. take a longer time to reheat. Cutting them down can shave minutes off your cook time.

The more surface area the meal has, the faster the cooking time as well. Squishing the food down into a flat pancake will heat more food and will ensure that terrible cold center disaster does not happen.

Always double bag foods when transporting. Nothing, and I really mean nothing, is more unpleasant than finding frozen chili strewn throughout your gear six miles into the backcountry.

Get a stove that can hold a large pot. Nobody wants to have to cook one meal at a time, and even less people want to be the last person to eat. Also, don't let the bags touch the sides of the pot. This is sure to melt them.

Plan and prep at home. Spending an hour in the warmth of your kitchen cooking and bagging a meal means spending fifteen or twenty minutes in the cold snow before you can eat it.

Not every part of your meal has to be reheated. Bring a bag of Fritos, some cheese, lettuce, and sour cream. Add warmed taco meat and you have yourself a nice bag of walking tacos.

Use Ziplock or Glad freezer bags. Both these brands don't use BPA in their products and the freezer bag will hold together better in the boiling water.
From here, the possibilities really are endless. I have seen people reheat whole steaks they grilled at their house, bring all the components of a real ramen out and add the hot broth, even soft boil eggs. Since you are camping in cold temperatures, you need not worry about food spoiling. Bring the milk, meat, and cheese! Be liberated by having a way to cook good food in the beauty of snow-covered mountains. If all else on your trip hits the fan, at least you'll remember the curry you had sitting next to frozen Lake Blanche.
Photo by Carolyn Webber
Leave a Comment
About the Contributor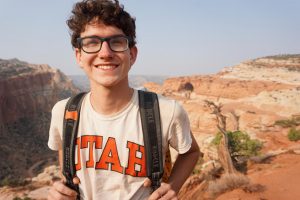 Nick Halberg, Editor
Nick is a senior studying philosophy and economics. He started with Wasatch Mag three years ago, and now is happy to be co-leading the publication as the Print Editor. He is passionate about environmental issues, especially ones regarding resource use. On weekends, he likes to explore new places in the desert.