Wishing on a Shooting Star
"Those who contemplate the beauty of the earth find reserves of strength that will endure as long as life lasts. There is something infinitely healing in the repeated refrains of nature – the assurance that dawn comes after night, and spring after winter."
–Rachel Carson
Growing up in a small town at the end of a one mile street without a so-called normal neighborhood, my best friend, Kate, and I would explore the woods for icy ponds with our skates or wild raspberry bushes to feast on the fresh fruit. In elementary school, I gained a passion for reading, writing, and creating books. I also skied and swam competitively at a young age, and I ran cross-country in high school and college. For most of my life my passions have included running, reading, writing books, and adventures in nature.
In 2015 when I turned 50 and became an empty-nester, two running friends challenged me to my first ultra-marathon. Having already run 12 marathons including one along Peru's Inca Trail to Machu Picchu, I ran the Oregon Coast 50K. One month later, I ran the Antelope Island 50k up and over and around the entire island. My mind wandered freely without any social media or news. It's where the idea to write my first children's book about Utah's five national parks emerged. It was a perfect "Aha!" moment.
2016 marked the 100 year anniversary of the National Park Service. During my travels, I had not seen a book for kids about our national parks. I delved into the research and writing. Soon I connected with a running partner's daughter to illustrate our first book, "Buzzy and the Red Rock Canyons," and our second book about California's nine national parks, "Casey Cruises California." Those two books soon led to a series of ten books, Wildlife Adventures for Young Readers. I love advocating for nature. I love road trips. I love writing about my travels. I was manifesting exactly the life I wanted. I was living my life's purpose.
During these past two years, Covid and social isolation dramatically impacted my flow. I have not been able to get on the road for adventures, new research, or book sales. Staying home felt safe, but the endless days that turned into months, then years blocked my imagination and creativity. I questioned my journey. How could I continue to sustain my chosen path?
With the Covid surges seeming to subside and with spring and summer on the way, my creativity began to flourish again. I now have a puppy, Clover, to join me on my hikes. I started creating haiku poems as I watched her curiosity in nature.
With the thought of spring blossoms, it's the perfect time to work on finishing the tenth book in our collection that will certainly be done before the summer solstice. We live in a state with the most international dark sky parks anywhere in the world — the entire WORLD! The endangered Mexican spotted owl narrator will take readers on a journey around many of them.
I will be looking for a shooting star or other sign in nature that I am once again right where I need to be, living my life's purpose. I should have trusted my intuition all along.
Believe in nature. You will never go wrong. Pay attention because there are always signs to guide you. Trust me. Nature is where the magic happens.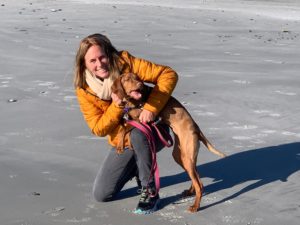 Leave a Comment