Woodward Park City: Utah's Newest Action Sports Destination
Camp Woodward, one of the biggest names in the action sports community, is looking forward to expanding their newest campus to Park City this November. While some are elated for the construction of the new action sports campus, other Park City locals are disgruntled.
Woodward was founded over 45 years ago at their original location in central Pennsylvania. Park City will be the camp's sixth location — the others are the original Pennsylvania location, Copper Mountain, Lake Tahoe, Tehachapi and Puerto Aventuras in Mexico. Woodward specializes in youth camps for boys and girls ages 7-19 looking to progress in skiing, snowboarding, BMX and mountain biking, skateboarding, parkour, scootering, gymnastics, dance and cheerleading. They also offer media camps offering instruction in film and photography.
Without a doubt, Woodward will fit in perfectly alongside the other resorts in the area and will draw in plenty of local and out of state adrenaline junkies. Ironically, there has still been an outcry from many Park City residents due to the location of the campus. Woodward will be taking over the land that was formerly the home to the beloved Gorgoza tubing park, a locally owned business and staple in the community. Located in the quiet Summit Park neighborhood, Woodward will be removed from the chaos of downtown Park City and it will be its own entity, separate from the other surrounding resorts, which only adds insult to injury for disgruntled Park City residents. Lying just West of Park City off of Interstate 80, Summit Park is a predominantly residential area which has left many homeowners displeased with the decision to allow Woodward to develop at the former site of Gorgoza. Sheridan Buccholz, a University of Utah student whose family has lived in Summit Park for his entire life said, "My parents moved to Summit Park rather than another neighborhood to have access to the mountains but not be stuck in tourist destinations and traffic. Woodward will definitely be a hindrance to that." Buccholz continued on to say, "My parents have also always loved the views of the land they get from our house and yard but the huge buildings going up as well as a big concrete wall off the highway getting built will really get in the way of that."
Many other Summit Park locals share these feelings of disappointment, but others are eager to welcome Woodward into their backyard. Corty Studebaker is a friend of Buccholz who has also lived in Summit Park for the majority of his life, only he has a different outlook on the situation. "My family has been pretty indifferent on the new land development," Studebaker said, "Living in Park City, we are no strangers to the hunger to always develop newer, bigger and better action sports facilities. Our only real frustration is the disruption of the nature it will cause."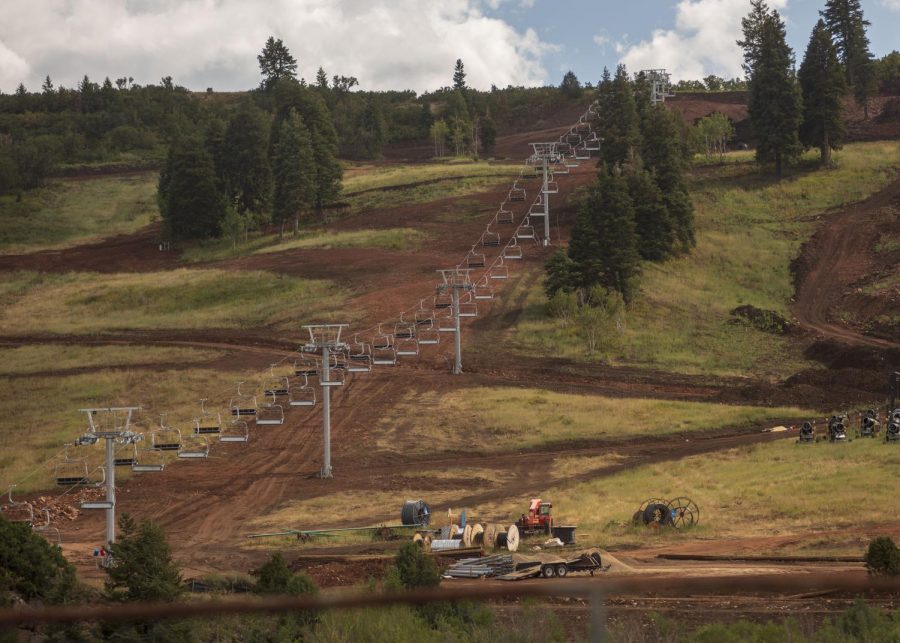 Perhaps the greatest redeeming factor of Woodward's construction is that it offers a brand new angle to Park City's winter sports scene — year-round skiing and snowboarding will now be available. While the Olympic Park has water ramps, Woodward will be installing dry slope facilities for year-round terrain park training and it intends to use snowmaking rigs late into the season to maximize the availability of on-snow activities. Aside from their winter sports programs, the camp will include state-of-the-art facilities, including, but not limited to, BMX dirt tracks, both indoor and outdoor skate parks, a fully equipped gymnastics and cheer facility and trampolines and foam pits. Although Woodward is operated as a session-based camp, there will also be open hours for the public to visit the camp as well.
While Woodward Park City has certainly faced criticism, there is no doubt that upon its official opening the camp will be both revolutionary and provide a great outlet for boys and girls to develop their skills across many disciplines.