Working in Wilderness Therapy: Loper's New Journey
Berkeley Loper graduated from the University of Utah in the spring of 2021 with a degree in environmental and sustainability studies and an emphasis in land management and conservation. Since then, she has been working at a wilderness therapy program in Utah. She leads high schoolers on backpacking trips with integrated therapeutic processes. Most students spend about two to three months in the program. I sat down with Loper to ask about her first season as a field instructor. 
What led you to pursue wilderness therapy? 
I grew up playing outside a lot with my family and spending a lot of time backpacking and mountain biking and canoeing around Washington … In college, my love of the outdoors expanded when I met a bunch of friends who loved to play outside. I realized that I wanted to make the outdoors a part of my future post-graduation. I've spent a couple of seasons working on trail crews in Idaho and Montana in which I was living outside and backpacking for long stretches of time, and just loved that life so much, so I knew that I wanted a job where I got to spend extended periods of time outside. Wilderness therapy seemed right for me because I found a lot of personal growth and empowerment in the outdoors and think that wild spaces can be such healing and beautiful [places] for so many people, so I wanted to spread that love to little kiddos.
Take me through an average day in the field.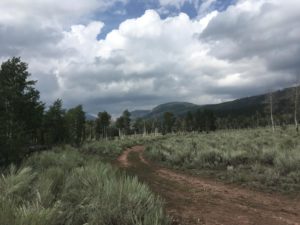 Our average shifts are eight days long and four of those days we're hiking and moving camp and the rest of those days we're staying in camp. On the days that we move camp, we'll wake up, eat breakfast … break down camp, pack everything up into our backpacks, and hike. We usually hike like two to five miles per day, but it really depends on which group I'm in and I have hiked farther with groups before. Then we'll get to camp, do chores, and make dinner. Throughout our day we'll spend a lot of time in process groups where students will [get into] groups to check in about how they're feeling … or to give feedback to a student or to the group, and these groups [help] build those healthy communication skills and assertive communication skills. [During] two of our in-camp days we have a therapist who comes to the field and has individual sessions with all of our students … We get to sit in as instructors and see what each student is working on and what we should be focusing on throughout the week and how we can inspire and push their therapeutic growth. 
What have been some of your most special moments at work?
Some of the most special moments have been when we just get to have fun with the kids and remind them that it's ok to be kids because so many of these students have struggled a lot in their lives and I think had to grow up a little too fast. [These moments] can look like us playing capture the flag, putting a production of "Frozen" together and singing all the songs, or singing "Hamilton" songs while we're hiking. 
What have you learned from being a field instructor? 
Going into this job, I was most nervous and self-conscious about the fact that I didn't have any experience working in a therapeutic setting. While I felt like I had competency in the outdoors that would aid my position … I was worried about how I would talk to kids and how I would listen to what they were going through on a daily basis … and how I would give them tools to help them grow. But I think that in this job I have learned so much about the power of listening … not having to know exactly what to say in any moment and not having to help or fix things — but just being a person that's there for support.
What have been some of the more challenging aspects of your job and how have you coped with them?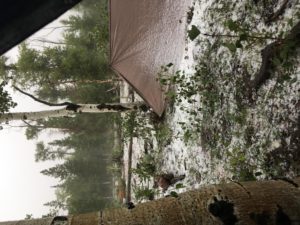 I have some students that are struggling with substance abuse and eating disorders and self-harm and suicidal ideations … challenging things — a lot of which I can't relate to on a personal level. It can be hard to not want to fix everything and take on all of the students' struggles … [I] was told so many times by people who had worked in the program for a long time that you can't help someone who doesn't want to be helped. That's been a hard thing for me to learn, but at the end of the day, it's the students' responsibility to put in the work so they can get better and create happier and healthier futures for themselves, and that's not something that I can do if they're not willing to work with me and try. 
What advice would you give someone who is just starting out?
I think you have to be really easy on yourself and understand that tools you will use in the field to help and empower children are things that are learned over time through so much experience … At first, what was helpful to me was just being super open and asking a lot of questions and asking more senior instructors what their thought processes were behind decisions they made regarding both therapeutic processes and day-to-day decisions in the field. You just have to … hold yourself accountable for making mistakes while also accepting that mistakes do happen and it's a learning process. Also, just be ready to listen to kids and fellow instructors — that's how you learn and that's how you show support. I would recommend [this job] to anyone because I think it's amazing and I've learned so much about myself in it, and see so much potential for growth in myself in the future while working here … I think the key to sustaining yourself in a job like this is to notice the moments that bring you joy and bring you fulfillment — when the job's giving back to you — and just remember those and hold those in your heart … There are some really hard days for sure, but there is so much to be learned from the kids that I work with and that's so powerful.
Do you see yourself staying in your position for a while? 
Honestly, I don't know! I would say that [during] these past few months I have been maybe the happiest I've been in my life … I'm loving that there's so much room for growth in it and a lot of support from everyone who works for my company. I could see myself working there for another year or so — maybe plus, who knows. I'm looking forward to building deeper connections with a lot of my coworkers who I'm still getting to know. Also, the most fun part of the job for me is connecting with students and building relationships with students … so I'm excited to continue building those relationships and meeting [new] students. 
Leave a Comment
About the Contributor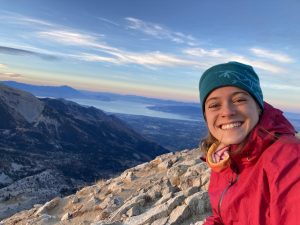 Sofia Sant'Anna Skites, Writer
Sofia is studying modern dance and English and is completing her final semester at the U. After serving as co-editor of Wasatch for a year, she is excited to return to writing. Sofia enjoys connecting with natural landscapes via a multitude of outdoor activities and always in good company. She strives to spread her love for the outdoors and to make these spaces more inclusive and welcoming of all people.