A Thanksgiving Ascent of The Grandeur
Thursday, November 24th
I felt nervous, nauseous, and in too deep. I still had half a mile till the summit, and my progress had dwindled to an embarrassingly low speed. There was no more solid ground, just polished ice and several inches of snow. With no boots, no crampons, and not nearly enough food, I heavily questioned if trekking upward was still worth it. I pestered myself for the stupid angst that got me here in the first place.
Tuesday, November 22nd
Driving down Foothill with my buddy, I was venting about how I had an article due, wanted to make a cool video, and couldn't for the life of me come up with a good story. Feeling totally devoid of creativity, I told him I should put myself through some adversity, and maybe something good would come out of it.
"I need my own Sufferfest," I said. 
Sufferfest was a term coined by Cedar Wright, a famous climber and filmmaker. The idea is to put yourself through a seemingly miserable adventure, getting a good story and character-building in return.
"If you want to suffer, hike the Grandeur!" exclaimed my friend. 
The Grandeur, as I would come to learn, is a difficult peak by Millcreek canyon: around 3,000 feet of elevation gain in just three brutal miles. Not only that but it was 6 miles from my dorm, so biking there wasn't going to be easy either. But it sounded like an awesome challenge. As someone who doesn't bike, and hasn't gone on a tough hike since getting to college I felt that this was exactly the suffering I needed. 
It was essentially Thanksgiving break. Most of my professors had canceled class for Wednesday, and I was done for the week. Though this Thanksgiving was a very different one. I wasn't able to go home and visit my family, see my dog, or catch up with hometown friends. I knew everyone else would be leaving, and I'd be stuck in my dorm, a sitting duck.  Equipped with the FOMO of the holiday and my desperate search for a story, I planned to set off the next morning on my little excursion. 
I packed about a gallon of water, two KIND bars, and a croissant for nutrients (this would prove to be far too little). I had my camera equipment, a first aid kit, and some chapstick. I wore 2 layers top and bottom and a windbreaker, so I was feeling more than prepared for the elements (once again I was wrong.) My plan was to begin biking before dawn around 6:45-7:00 am, hike quickly to get to the summit around 9:00 am, hike down by 10:00 am, and be home by 11:00 am. I had a Facetime with my family for Thanksgiving in the afternoon. 
Thursday, November 24th
That morning I downed a cup of coffee and half a granola bar before I set off. When I left the temperature was still in the mid-20s and the sun had just started bringing color to the sky. At my disposal, I had my grandpa's old cruiser bike, and I hadn't ridden a bike more than a couple of miles in my life before this. It was a six-mile ride to the trailhead, and by the time I got there my quads were burning. I was far more out of shape than I had realized. 
I began hiking around 7:45 am. The trail was a lot harder than I thought it would be. The climb was essentially competently straight up,  treading on loose gravel or ice the entire way.  There were a few other hikers on the trail, all of them equipped with hiking poles, crampons, and a partner (three things I foolishly overlooked). By the time I was at the top of the first big ridge line I had finished off my KIND bars and a third of my water. I was feeling absolutely beat, and I wasn't even close to the top. A man decked out in trail running gear and a stylish mullet passed me heading back down. The thought of running up this thing was criminal.
I continued to scramble from ridge to ridge, while the summit loomed far overhead. My mind wandered: I thought about movies to watch, odd math problems, and mountaineers who would have run up and down this peak twice by the time I got to the top. I stopped every once in a while to turn back and look over the valley. The view was pretty outstanding. Mt. Olympus and the snowy peaks on the far side of Salt Lake framed the city, and the sun began to reach out across the land. 
By the last ridge before the summit the ground was snow and ice. Not many people were up here anymore. The last person I passed on the way up told me there was no one between there and the summit. Not exactly what I wanted to hear. I summited around 11:00 a.m., where I was met with fast and cold winds. After taking a few pictures and shooting a short video, I ran back down the ridge for some cover. I hardly remember anything about the summit, apart from the fact it was miserable. The wind blew straight through my body, and my empty stomach twisted into a knot. 
The hike down was consistent with the summit. I found early on that the most efficient way down the slope with no crampons or hiking poles was to hurl my body down the mountain and try to carry my momentum for as long as possible, slipping and falling on my butt every so often. About halfway down as I turned a corner I was abruptly greeted by the same mullet sporting man running back up the mountain. I wanted to tell him he was a total badass, but I kept my mouth shut. He passed me again running back down before I got to the trailhead, and once more by the time I got back to flat ground. I finished the hike around 12:30 p.m. I sat at the picnic table feeling totally defeated and totally accomplished at the same time.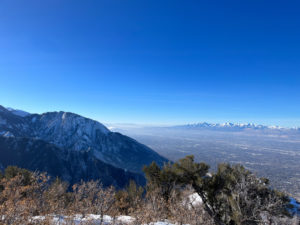 Reflecting
The biking was long, the hike up and down was tough, and the summit was cold and windy. On paper, it sounds like a terrible day, yet it was the most fun I've had in a while. The view from the side of the mountain was breathtaking, and there was no doubt I was getting a workout in. To be left alone with your thoughts, the sun on your face and the smell of nature is an underappreciated therapy. To take a break from the hustle of school or work, and climb a mountain at your own pace is a nice change. Sure there are some people who will have climbed it twice by the time you get to the top, but the summit isn't always better than the journey up. 
Leave a Comment
About the Contributor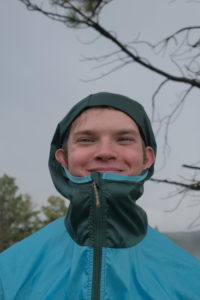 Aidan Cooley, Writer
Aidan grew up in New Mexico and is a second year at the U studying data science. He loves to go rock climbing, hiking, snowboarding, and anything else outdoors. He is a member of the Utah Beekeeping Association and the U of U rock climbing team. This is his second year with the magazine and likes to tell his stories of the outdoors to those willing to listen.