Who runs the world? Girls. Literally. And specifically: Jax Mariash, a world-class runner and stage race athlete.
Jax didn't just arrive to where she is by luck or some otherworldly ability to ignore pain. She simply sets big goals for herself. She makes the most of her time. She seeks solutions to overcome unimaginable types of physical discomfort and injuries, battling mental hurdles along the way. The result?
She set a

world record

as the first woman to complete the

4 Deserts Grand Slam Plus

: a series of five ultra-running races on four different continents

.

In the spring of 2018, she was the sixth female finisher of the 155-mile unsupported

Marathon des Sables

in the Sahara desert

.

She was recently the first female finisher and the top American in the

Grand to Grand (G2G) Ultra

: a 171-mile weeklong stage race that runs from the Grand Canyon in Arizona, to Grand Staircase-Escalante National Monument.
Looking at this highlighted list of accomplishments (we could add way more to it), it's hard to know exactly how she does it, especially while running her coffee roasting business, STOKED Roasters.
Like many professional athletes and entrepreneurs, Jax is a morning person. She wakes up at 5 am every day, but what her days look like depends on the time of year. "In the summer, I like to run with the sunrise. So, I'll have a double shot of coffee and get out the door, get my run in, make breakfast, then start working," says Jax. She'll grab-and-go for lunch and keep working, then do a strength workout in the afternoon, and then work some more. "I tend to burn out around 6, so then I start to socialize. I see friends almost everyday. Then I go to bed and do it all over again" says Jax. In the winter, she basically flip-flops, with runs in the afternoon and work in the morning. "I leave nighttime runs for racing," she says.
She doesn't grind on a typical Monday through Friday, nine-to-five basis. "Weekends are a blur, and vacations are unheard of," says Jax. "I'm a go, go, go, kind of girl," she says. You might say she's always.. on the run. "It's a little intense, but it's the only way you can be a world class athlete and run a cool coffee business." There's a bit of an art to it, but at the same time, if you want it, you sort of just do it (thanks, Nike.) When she was *just* (ha!) an elite road racer, she did a bit more winging, mostly just following her run program at the time. But then she started stage racing in 2015, and you simply can't wing it. "You're doing ultra marathons multiple days in a row, with a pack on your back, going across some of the worst terrain in the world," says Jax.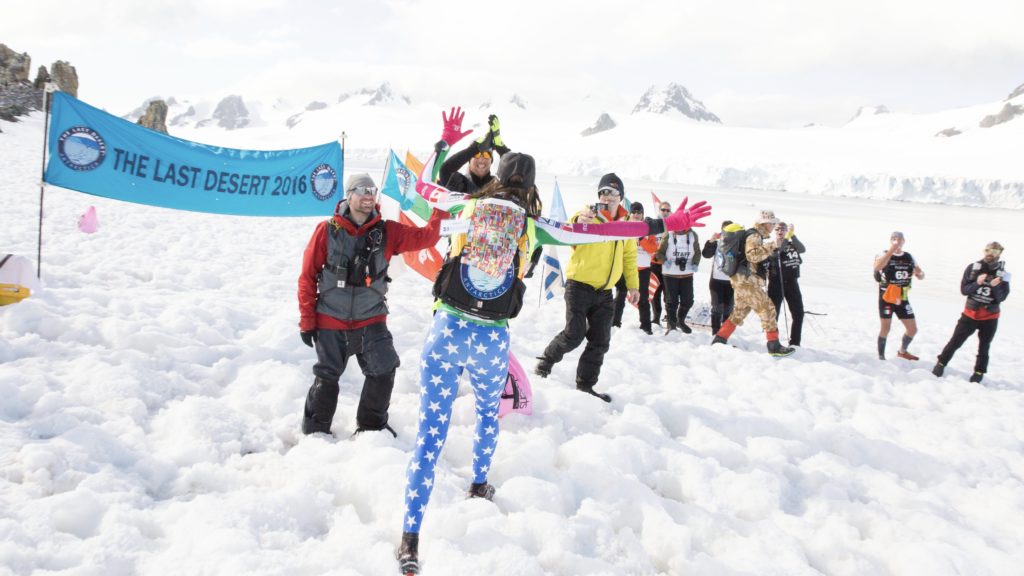 Technically, ultra running is anything past marathon distance, or 26.2 miles, while stage racing has multiple components and requires "more consistency to pull it off and to win," she says. Winning is definitely her goal.
The transition from marathons to ultra running means doubling up on long runs on a weekend, but when it comes to stage racing, the races and the training are even more complex. Strength training three to five times a week becomes critical, on top of running between 70-100 miles per week. And don't forget about the 19-pound pack. "There's an element of survival, carrying everything you need on your back," so you need to train to get used to it. "When I'm a month out from a race, I'll usually wear a 40 pound vest and work standing up. That helps to develop strength and help make the race-day pack not seem so bad. Then, I will do two to three runs a week that are specific to a 20 pound vest so that when I get to race week it's not such a shock," says Jax.
The G2G race was her eighth stage race, and she has four more planned in the next 15 months. Jax is more than an elite runner. She's even more than a world-class athlete—she's the top of the top, not just winning, but winning by a long shot. She sets goals above just running races on every continent— she wants to be the first human to win a stage race on every continent. She's always been ambitious, though.
She started running when she was five years old, and always wanted to "do crazy stuff", and be someone who "put a stake in the sand in this lifetime who was going to be remembered as inspiring the masses to get outside," says Jax. "When I hear stories of people who started running or achieved a new benchmark in fitness because of something I've done, that's better than the world championship I got. That's the root for me. If I have the gift that my human body can do the hardest, most grueling, self-supported feats in the world, and I can shed light to help people go outside and be fit, then I should do it. And I'm going to do it. And I'm going to get those benchmarks."
While she hopes to change the lives of others, this lifestyle has changed her, too. As a stage race veteran, "you come back into the real world and everything is different. It affects your friendships and your life. Suddenly, your adversity meter and your crisis meter have shifted," says Jax. "What used to be mass crisis is now no big deal."
Jax explains that "when you do these races, you experience a new level of adversity you didn't know was possible over and over and over again. One day your gaiters are blowing and your shoes are full of sand all day, the next day you're puking five times. It's constant adversity, and if you can't handle that well and flip around and skip the panic and go to a solution, you're fucked, and you'll be dropping out."
It was one of Jax's proudest accomplishments to finish the Grand Slam Plus and became the world champion in Antarctica. "You can see it all over my face in the real picture," says Jax. "It was 10 months of the hardest focus to win all the races. To be the world champion, to make history for women, to raise money for the LymeLight Foundation. You can see the relief and the holy shit, I did it moment," says Jax.
After the Grand Slam Plus, she set out for a triple threat goal: three 100-mile races in seven weeks: the Leadville Trail 100, UTMB Mont Blanc, and the G2G Ultra. During UTMB, she sprained her ankle and tore a tendon —just three weeks before the seven-day-long, 171-mile self-supported stage race. Despite not being able to walk, she skipped panic mode and sought out solutions. "I put my leg up in France and iced it for two days straight. Then I can home and did 10 different treatments per day for three weeks straight."
While she let healthcare professionals care for her, she made sure to care for herself with daily meditation. She visualized strong ankles and just a few short weeks later, walked into the Grand Canyon healed and with total confidence. Before the race, everyone was a little nervous for her. But, after day one she held a 25-minute lead over the second place female runner, which eventually grew to three and a half hours, then to her finishing as the first place female, first place American, and seventh place overall. Other than Jax, the top 10 was made up of only male runners.
Winning this race marks one of her biggest accomplishments—maybe even a little more than winning the Grand Slam Plus, because she had battled a tough season of bad medical issues that created highs, lows, and inconsistencies, which can undoubtedly take a hit on confidence. Out of the 19 races she ran last year, Jax would win some, and drop out of others, never really knowing how her body would show up that day.
Shortly before the Leadville race, she parted ways with birth control and suddenly the storm passed, restoring her consistency by what seemed like a simple and obvious fix. While it's not glamorous, "I think more pro-athletes should share the emotional and difficult downs. We tend to hide them and paint pretty pictures when we feel like crap. It was an eye opener of sharing the whole story. By sharing the lows, it makes the highs even higher," says Jax.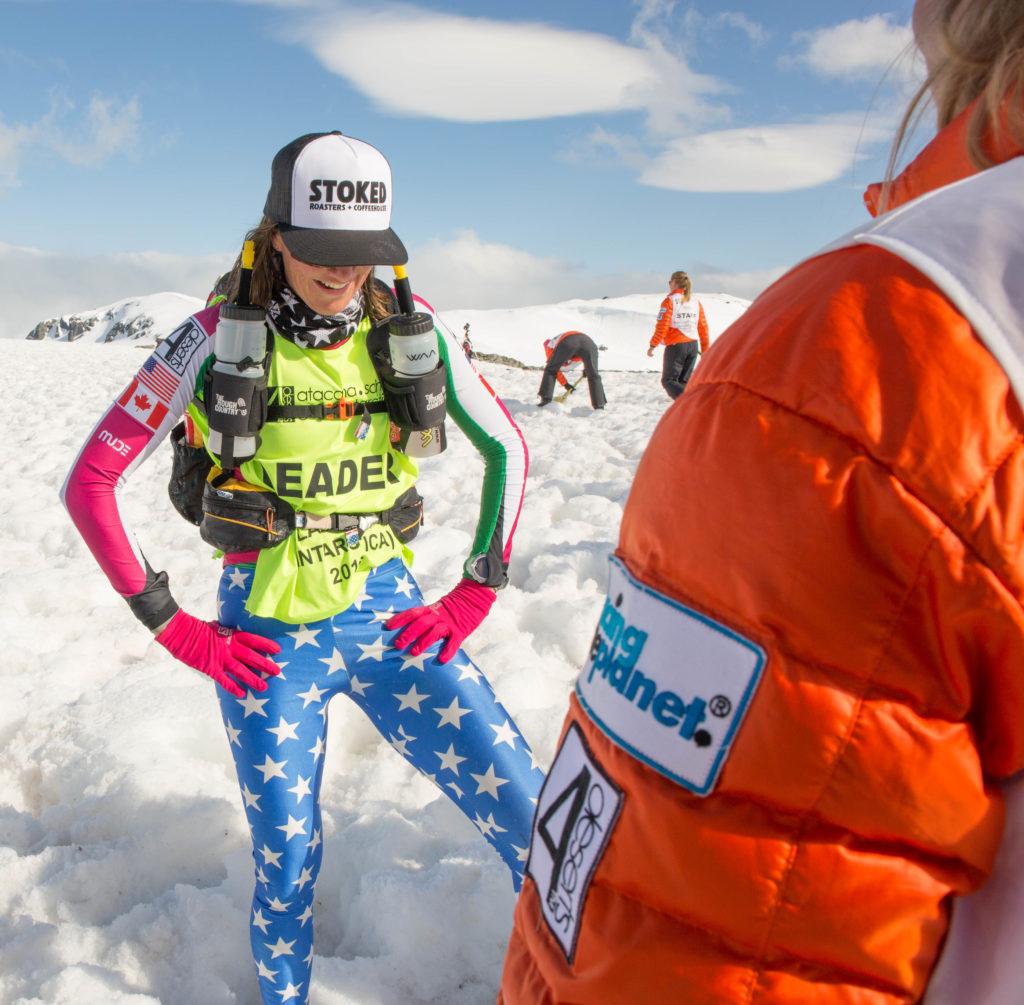 Although physical ability and preparation is critical to being a world-class athlete, Jax stresses the importance of mental preparation, too. "It's all part of the mind. Asking yourself 'what is pain?' and 'how do you breathe through it and play mind games with yourself?'" When Jax hurt her ankle, she taped them daily, visualizing shields around them, protecting and preventing them from rolling. "It's all in your head—I believe it more after finishing the season how I did—I'm in shock. I thought it was going to be a total suffer fest. But, it's all about positive affirmation, meditation, and believing that you're going to be just fine," she said.
Jax has meditated since she was five years old and especially in her professional career. She is currently working on positive hypnosis, where she selects "an affirmation everyday. You focus on an affirmation and projecting into the universe what that looks like, feels like, and placing yourself in that space. Before G2G, I did a lot of imagining myself winning. Winning every stage, what's happening around me, my tent, my experiences, and a lot of that actually happened. I believe it's the secret, that your thoughts are your future."
Jax continues to set lofty goals, while enjoying the hundreds of miles of trails out her backdoor, "with hundreds more a canyon over, and a canyon over, and a canyon over". She surrounds herself with other folks who also work hard, play hard, and is enjoying a bit of downtime before she heads to the 140-mile Ice Ultra in Sweden in February, and The Track in Australia, a 325 mile stage race just 12 weeks later.  
To put it simply, Jax puts the 'wonder' in Wonder Woman, and it's a treat to see how far and fast she will go. Follow her on Instagram @JaxMarish and wonderwomanjax.com to keep up—if you can—with her wild crazy journey to run the world, setting records and leaving her mark all along the way.