Roughly Route 7
Scotland is not for the faint of heart, at least not by bike. While the country is incredibly bike-friendly, the weather can be grueling and unpredictable. The terrain is varied but rugged. Together, a couple set out to accomplish a dream of bikepacking through Scotland—a first tour for her, but not for him. They planned a tentative route, along Route 7, the national cycling path that runs from Sunderland to Inverness. They packed and carried everything they need for their point A to B journey from Glasgow to Inverness. In hopes of avoiding tourists and accessing remote parts of the country, they gain more than 12,000 feet of elevation over 220 miles. They cross two national parks, Osprey breeding grounds, and many miles of mud and bogs through the Scottish highlands.
It didn't take long before we stopped, not far after crossing the Clyde Arc bridge, and began digging through our panniers for headlamps, relying on senses other than sight. I'm not sure what I expected when we ditched the thrashed cardboard boxes in the middle of the Glasgow airport, waving goodbye to the staff who'd half-helped us track down our bikes that were lost en route.
We'd spent 48 hours longer than we planned in the city. So, we built our bikes and rode into the night, eager to make up for lost time. Our headlamps lit a small fraction of the path and the occasional scurrying russet brown hare. As we pressed on, I could feel the stone walls rise, supporting the countless tunnels and bridges above us. The sound of wet tires whizzing on the pavement was absorbed by the dense and drooping flora that moved and dripped in the night's dew.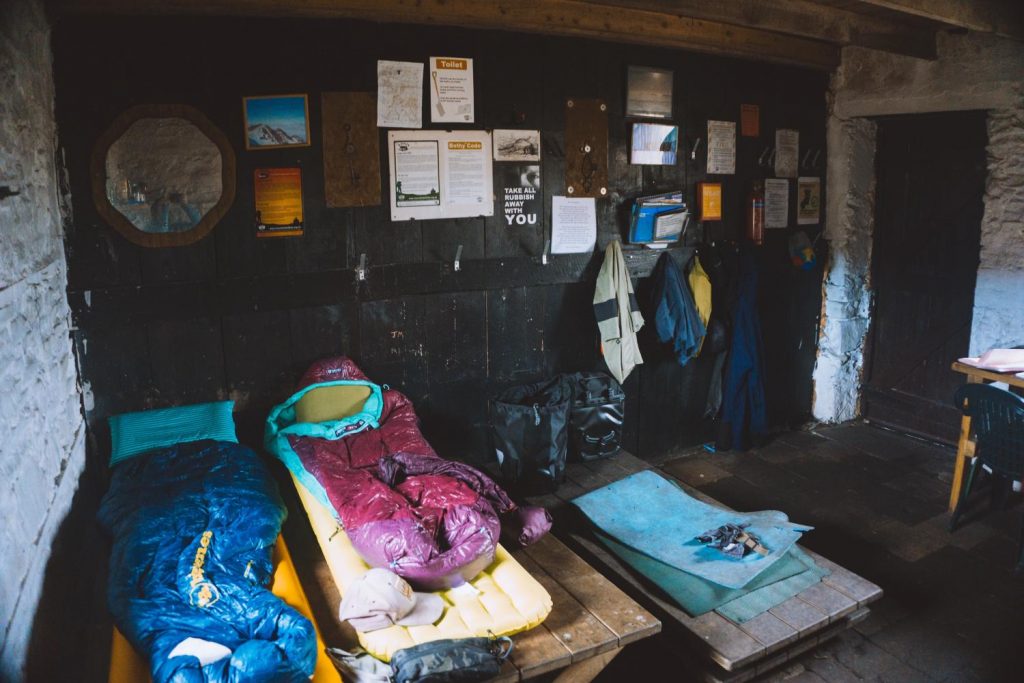 By serendipitous odds and wishes come true, we stumbled upon a travel lodge near 1:00 AM. Basic and cheap—we surrendered to a warm night's sleep and an early morning start that lacked a warm morning's welcome. The trees were electric green, coming again to life during the spring. We laughed as we zipped our jackets to the top and cinched our rain pants tight.

The roar of the rain slowly replaced the roar of the city, as I replayed the Beatles in my head, reminiscing on two nights prior at the "Howlin' Wolf", a small bar nestled underground. The packed bar cradled a group of all ages, yell-singing Come Together! Right Now! As I moved my head to the beat of the memory, water trickled down the brim of my helmet.
I occasionally looked ahead to see Ben, similarly head down, protecting his face from the rain. We hadn't spoken in over an hour—it was hard to hear while riding single file. I wondered if he'd been admiring the pattern of the river as I had. I also wondered if this was the trip he'd imagined. At this point, we'd been dating about six and a half years. This trip always seemed to be a someday idea, and now here we were, actually doing it.
The birds accompanied the song of the rain through the countryside. Bright yellow gorse flowered in bunches, rolling with the green hills. We were finally able to ride side by side, with the exception of greeting and passing hikers and backpackers.
We came to realize our journey north intersected with the John Muir Way, a route which runs from coast to coast through central Scotland. I thought about Muir for a while, his influences and controversies, until I hit a thorn, releasing a geyser of sealant from my front tire. Luckily, this was the closest we ever got to a flat.
We stopped for a pint and some food for lunch in Drymen, situated just within Loch Lomond and The Trossachs National Park. The sun teased a presence and we ventured north-ish and out of service to explore and camp. We greeted an elderly, quintessentially Scottish man walking down the gravel path. He was tall and dressed nearly entirely in wool, capped with a traditional tam o' shanter. His only chosen words were, "It gets steeper."
A wandering path rose into the steepening highlands, and we shuffled the bikes around an opening beside the cattle gate, through overgrown shrubbery. We were comforted by the handful of worn bike tracks that had preceded us. This is the right to roam.
In 2003, Scotland passed a land reform act that gives everyone the rights of land and inland water throughout Scotland, generally called the "right (or freedom) to roam," ensuring public right of access to the wilderness without restriction.
So, we roamed and biked where we could but often hiked our bikes up the muddied trail behind and beyond a small herd of hairy Scottish cows, beards, bangs, and all. We'd covered close to 40 miles and a few thousand feet of elevation. My legs stiffened as we looked for a camp spot.
The forest trees were thick and rolling with uneven mounds of moss, so a clear, flat spot proved difficult to find. I pushed my bike up rocks and roots, exhausted, calling out to Ben in a game of Marco Polo towards the spot that he found.
We slipped into our only pair of non-bike clothes. Water boiled for tea and whiskey while we waited for our freeze-dried meals to cook. Without a fire, we sat on two small, damp rocks and enjoyed conversations that faded with the sun into the quiet of the night.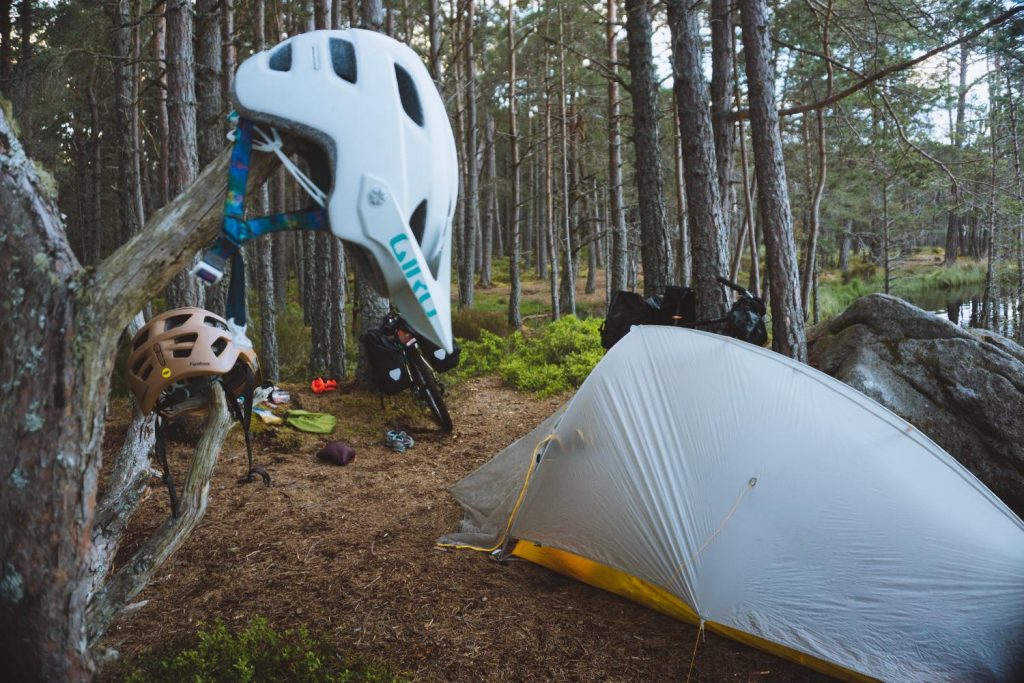 The next day started rainless, but we were soaked through every layer descending into Killin. We stumbled into a tiny pub with smoke pouring out the chimney. We were traced by sympathetic eyes as we draped our wet layers over a chair, huddled close to the fire.
We'd come far already but still had a long way to go. So, two pints later we zipped and clipped everything back together, and saddled up for another 20 miles in "true Scottish weather," we were told. Despite Ben's constant smile and encouragement, there were a few moments of personal defeat.
We climbed hill after hill. How is it possible to get any higher? I thought. We foolishly skipped lunch, and somewhere between Killin and Kenmore, on a random hill, I just sat down—in the mud, surrounded by sheep. My spirits and blood sugar plummeted. Ben handed me a cold sausage roll we'd picked up at a bakery in Callander earlier that morning and a mini Kit Kat we'd taken from the hotel on our unplanned (and only) night in Glasgow. Ben enjoyed a steak and haggis meat pie.
It seemed like we camped every other night on the trip, contingent on the rain. Some miles later, we found the cheapest hotel, the Kenmore Hotel, which happened to be Scotland's oldest inn, established in 1572. The colorful wallpaper, velvet carpet, and weird rabbit paintings and stuffed animals proved it. But, it was warm, came with a bountiful Scottish breakfast, and properly dried every layer, glove, shoe, and helmet that we had surrounding the old metal heater.
Come morning, we stuffed windbreakers and pairs of socks back into our saddle bags, hand-pumped our tires, lubed our chains and just like that, we were off again. Through Pitlochry and passed the Blair Castle, we looked towards Cairngorms National Park.
Each pedal stroke took us further up the rocky trail, through half a dozen variations of pine trees—a portal into the highlands, Scotland's barren tundra of hills. Ben was naturally quicker, given that he's the more experienced bikepacker. I did my best to keep up without losing my balance on the loose rocks. The bikes were heavy and toppled easily (I learned that the hard way) and it was nearly impossible to get going again uphill.
We were looking for a bothy. They're free, unregulated, maintained by volunteers, often donated to the public by landowners, and are only accessible by foot or by bike. Scattered throughout the country, they are used based on the ideas of shared trust and take a little, leave a little. Maybe you leave a little firewood or some oil. But you always sign the journal.
We descended and my metal canteens rattled in their cages. My hands went numb and I hoped my panniers would stay clipped, but couldn't afford to look backward. Within minutes, the creek-side bothy appeared, standing as free as we felt.
We lit a few candles, made dinner, and drifted slowly to sleep on a wooden plank beside a small coal fire. It's likely you may share the shelter with other travelers, but we had it to ourselves, with the exception of a passerby. We exchanged cheerful morning conversation with a mountain biker who recommended we bike Gaick pass to another bothy, so we set out for it.
Gaick pass greeted us with rain showers of past and present that forced us to hike our bikes through bogs and up and down muddy, high-consequence narrow single track. I don't remember exactly when I stopped avoiding the puddles and mud, but I rounded a particular ledge during the traverse. Ben stood, small in the distance, with rays of sun pouring on the hills behind him.
The combined feeling of the sun on my skin for the first time in days and the striking, solitary beauty of the landscape elicited a moment of overwhelming gratitude. After fjording two rivers and searching for the bothy, we realized the path didn't connect where we thought it did. Maybe we took a wrong turn, but all we knew was that we were soaked and muddied to our knees.
The sun sunk and the sky grew darker. Storm clouds brewed, followed by rain. We had trekked over 200 miles by now and despite our desperate efforts to find camp in the tight mossy forest, we agreed to push through to the next closest town. I sniffed through nearly frozen tears, avoided bites from chasing dogs, and ended up in Kingussie. I could barely move my fingers and toes, but somehow thawed before slipping into a soggy slumber.  
Our last full day was chilly, but sunny, at last. We rode in wet shoes and covered fewer miles than usual (still about 25) and camped beside Loch Garten in the Abernethy Forest, a nature reserve for osprey, who were actively returning to breed. For the last time, we set up the tent. For the first time, we watch the sun truly set. We sat, silently watching the pink sky spread across the water, as the deep whirring of an osprey in flight resounded just above us, gliding across the lake and into the trees beyond.
The ride into Inverness included an hour laying beside the river, and a pit stop at the Tomatin distillery where we cheers'd 18-year-old whiskey in our week-long-worn smelly bike shirts. We celebrated 12,000 feet in elevation gained over 220-ish miles of pavement, gravel, and rocky roads.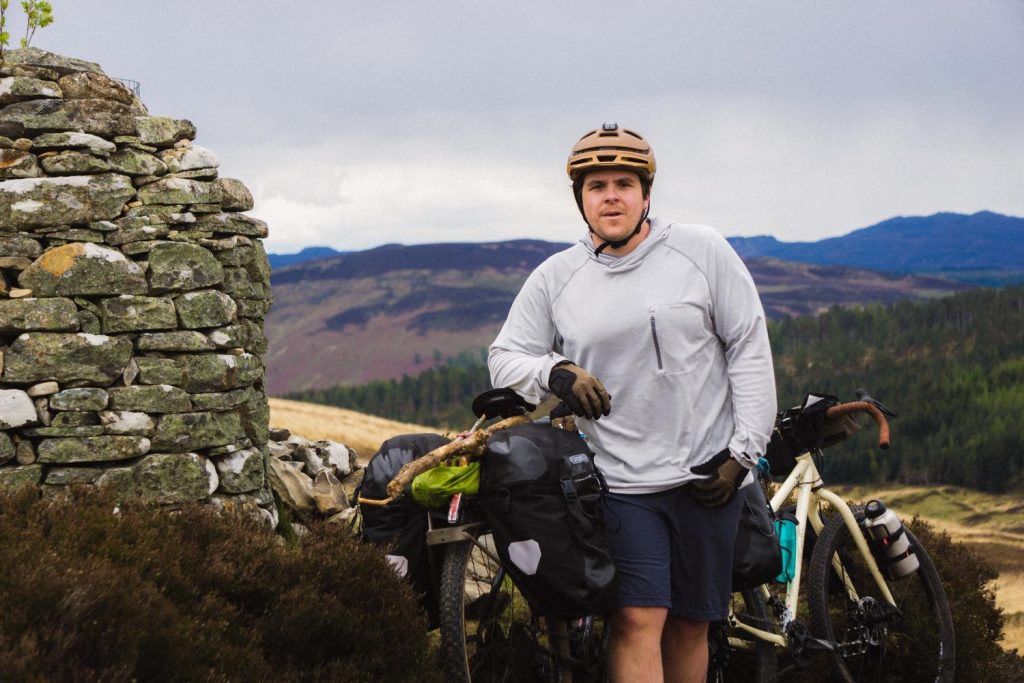 From the beginning, we knew our plans were tentative. The art of unknowing provides opportunities to deviate beyond plans, paths, or predictions. We set out, unassisted, on bikes to explore and intimately experience Scotland. We had relished days of solitude and backroads without compromising the opportunity to indulge in hard-earned, famously fresh baked goods and craft beers.

We simply followed the desire to be in the world, not on it. To pack only what we needed and live simply. We leaned into the balance of adventure—the bittersweet, unpredictable taste and terrain of the earth. The reminder that we are small in a world that gives us the gift of cool mountain air, the quiet of the hills, and the rain rinsing of our souls.