Christmas-time Consumer
"Better Is Out There." -REI
"Never Stop Exploring." -The North Face
Just some of the famous slogans from big outdoor companies that any nature enthusiast is sure to know. If you love the outdoors and spend any amount of time recreating in it, then I'm sure you've heard of the name brands: REI, Cotopaxi, The North Face, and Columbia, to name a few. 
Despite the purpose of these companies, which is to get people outdoors, consumerism doesn't stop at the tree line or the base of the mountain. Because while these companies strive to get customers outdoors, they also strive to get customers outdoors using their gear. 
It's interesting, the juxtaposition of spending time outdoors and the material possessions necessary to spend said time outdoors. Because the unfortunate reality is that it costs quite a bit of money to participate in many outdoor activities. Skiing, camping, and climbing are some prominent examples of pricey outdoor activities that cater immensely to the outdoor culture of Utah.
Another reason why people living in Utah and other outdoor-recreating-centered areas across the US are familiar with these major outdoor corporations is because you have to be. You need high-performing, good-quality, durable equipment to participate in these activities in the midst of the unforgiving Wasatch front and intense surrounding terrain. So we gravitate towards these established companies and rely on them to provide us with the necessary gear. 
In a country centered on consumerism, it seems like there are major sales and deals across stores every other week, but nothing comes close to the annual Black Friday nationwide sales. Black Friday, which has been around since the 1950s, has exploded over recent years into not only a day-long sales palooza but a week-long event for many retail stores. Many outdoor retailers have also jumped on this bandwagon. It's not too surprising; any business or company relying on consumer spending for profit is going to take advantage of any opportunity available to sell more products. However, some companies have decided to opt-out of the holiday directed at consumerism. 
Since 2015, REI has been closing all 143 stores nationwide on both Thanksgiving Day and Black Friday in order to give their employees (over 13,000) both days off, according to Blacker Friday. Instead, their #optoutside campaign encourages employees and customers to spend time outdoors with family and friends. 
While REI has not participated in the frenzy that is Black Friday for the past seven years, the corporation does contribute to consumerism with other sales throughout the year and over the holidays. REI is known for having about four really big sales over the course of a year, one of which is over the holiday season.
Even though REI has its doors closed on Black Friday, they participate with the majority of companies nationwide in Cyber Monday and continue sales and deals leading up to Christmas. Being an REI membership holder myself, I remember getting a pamphlet in the mail just a few weeks ago sporting their low prices on select items, only available for a limited time — which was in fact during the "holiday season."
Patagonia also conducts business and sales a little differently than the average retail store around the holiday season. Like REI, Patagonia does not participate in Black Friday sales, but it does have a good amount of deals available through the holiday season. In the past, it has also taken an employee-centered approach similar to REI. A 2021 Forbes article stated that Patagonia closed all of their stores, warehouses, and offices in the US and Canada from December 25th – January 2nd to give their employees a break. However, Patagonia will only be closed on Christmas Day in 2022. 
Despite certain outdoor companies opting out of the traditional Black Friday deals, they all still have plenty of sales throughout the year and over the holidays that can make up for their "absence" on the day after Thanksgiving. 
While everyone says that the holidays are a "time for giving," the part that gets neglected from that phrase is it's also the time to spend a bunch of money buying what seems like everyone you've ever known a bunch of presents from stores that use the holidays to market their products to consumers with a ribbon and a fancy bow — outdoor companies included. 
It feels like it would be easier to count the days on the calendar year when there aren't sales in retail stores across America. And that's not to say that sales are a bad thing, I fully take advantage of any steal of a deal that I can find, it's just interesting to think about the relationship between the holidays and consumerism. And it's even more interesting to think about the relationship between the outdoors and the outdoor industry. In the end, it seems a little contradictory that the outdoors — the one place purposely set aside from industrialization — even has its own "industry." 
Leave a Comment
About the Contributor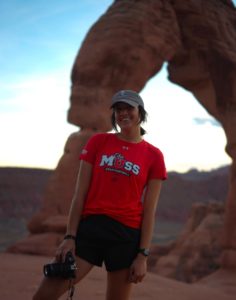 Makena Klinge, Editor
Makena is going into her senior year at the University of Utah this fall and is studying Journalism and International Studies, along with a minor in Photography. She is from Boise, Idaho and loves the outdoors and spending time with family and friends. Her hobbies include photography, sports, reading, running, hiking, biking, and skiing. Makena hopes to work for a company like National Geographic as a photographer/journalist at some point. Her goal is to travel the world and never stop exploring. She enjoys connecting with others, and she values getting to know new people.